Document Management Software tools are defined as computer programs used to track, manage, and store documents, reducing paper usage in the process. This software can be utilized in many facets of business whether you have videos and pictures you want to store in the cloud to documents you ultimately want to share and collaborate on with your teammates.
As we categorize document management software tools into the buckets of the sales and marketing continuum, we firmly believe there are roughly 5 areas DMS strongly fits in including DMS for data collection, collaboration, proposal stage, presentations, and contract & signing.
Data Collection – desktop or cloud storage and management of documents
Collaboration – a team's ability to collaborate in real time on those particular documents.
Proposal/Contract Signing – DMS that allows for proposal creation and contract signing collaboration via the cloud
Sales & Marketing Presentation – Software that allows for document management, collaboration, file sharing, and presentation development.
Presentations Stage (Document Management Software)
CustomShow is a presentation software program used mainly for businesses and companies with more than 25 employees.  With over 40 years of rich presentation history, the software company was created out of the presentation design agency, Sales Graphics.  The software allows companies and organizations to build better custom branded presentations that look light years better than your typical PowerPoint presentation.  We would consider ourselves a great sales enablement tool because sales professionals benefit a great deal from the software.
The ability to create customized and branded presentations; slide library; cloud-based; analytics; ability to conduct web meetings; connects to Sales Force; ability to deliver online and off-line as well as via multiple devices (desktop, iPad); great with video; can upload PowerPoint slides and customize to your own brand standard; import PowerPoint presentations into the software
No More Running Around for Content
Schedule A FREE Demo With Us
Clearslide purchased Sliderocket several years ago. If volume sales is important to you, Clearslide could be a good tool for you. There is more emphasis on sales and tracking than the presentation creation side of the software. After going through a series C $50 million round of funding, the company is focusing more on sales enablement and less on presentations specifically. Nonetheless, the tool is worth reviewing presentations and project management.
You can upload files from Keynote, Powerpoint, PDF, Excel and other formats; good metrics; online delivery; slide sharing. The interface is complex and limited in the ability to create a "better-looking presentation"; video isn't seamlessly integrated into business presentations.
Google docs is simply the free gold standard of document sharing services. The ability to share Word, Excel, Powerpoint, and Access documents with anyone with an email is powerful. But the level of functionality compared to their traditional desktop version is lacking. For instance, if you need to synchronize different docs or export data, you'd need to use external solutions like Excel to Google Sheets integration or others.
Google docs is great to use for teams that are nimble and don't need any particular grandiose solution that does a particular function. Even though Google Docs has been placed in Data Collection, it is often used for collaborating with people and teams.
Dropbox has become the gold standard for document sharing and document management. It is simple and easy to use for many users. You can do both traditional documents as well as videos for sharing. You can also edit presentations with teammates without emailing files back and forth. When you edit a file in a shared folder, everyone gets the update automatically.
Dropbox is a relatively inexpensive solution for file sharing and is probably the most popular file sharing application.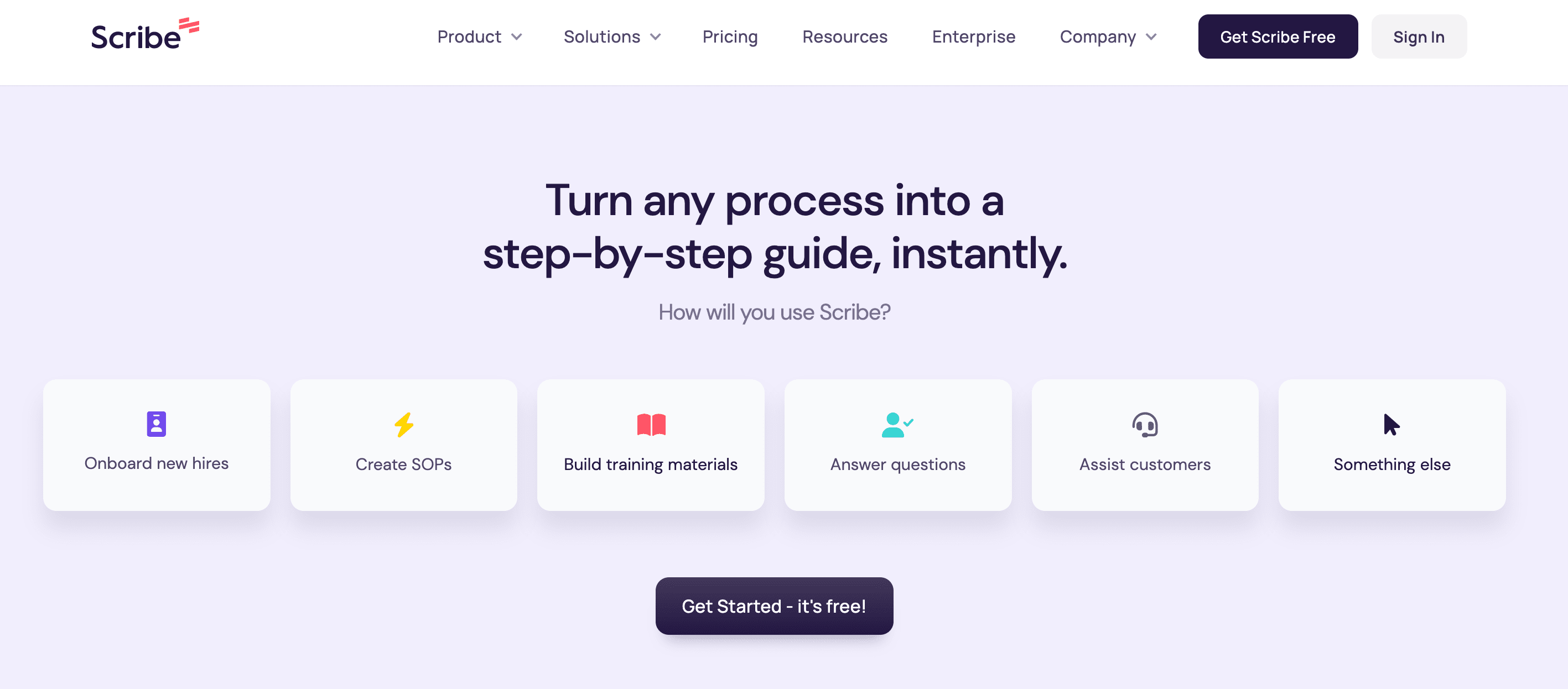 Scribe is an SOP generator that documents your development processes for you. The free chrome extension tracks your workflow to turn every click and keystroke into a step-by-step guide. It's easier than ever to capture a process, train new teammates or document code. Every Scribe includes text instructions and annotated screenshots, so you'll never have to manually write or capture your screen again. Edit, share or embed a Scribe in any knowledge base — and combine Scribes with text, images, video and more in Scribe Pages.
Zoho Docs is an online document management software that lets you manage and store all your files on the cloud. In addition to their standard storage and sharing features, you can also collaborate on various documents with associates. With its user-friendly interface and a wide array of features, Zoho Docs offers document creation, editing, and sharing capabilities in real-time. It also provides secure cloud storage, version control, and advanced search options to enhance productivity and organization.
Whether you're working on a project, collaborating with colleagues, or managing your personal documents, Zoho Docs simplifies the document management process and keeps your files accessible from anywhere. Experience the power of Zoho Docs and revolutionize your document management workflow today.
ClickUp is a powerful productivity tool for teams of any size and across industries to oversee projects, collaborate smarter, and manage your work in one place. It's packed with hundreds of fully customizable features to tackle any type of work, including a dynamic document editor to capture everything from simple notes to beautifully formatted wikis.
ClickUp Docs allows you to work alongside your team with real-time editing and assigned comments to streamline your feedback process while keeping everyone up-to-date within a knowledge base that can be shared publicly via URL. Add nested pages to your Doc to create a visual hierarchy, then add headers, tables, lists, and styling options to make important points stand out. Plus, ClickUp Docs can be connected directly to your workflows, making it easier than ever to start acting on your ideas. And since all Docs live within your workspace, you can easily manage, access, and refer back to them via a simple link, task relationships, or tags. Best of all, ClickUp Docs and its collaborative features are available to all ClickUp users for free, forever.
eFileCabinet provides cloud and client/server solutions, including:eFileCabinet Desktop, a document management software (DMS) to store and manage important business documents; eFileCabinet Online, a hosted DMS solution; and SecureDrawer, a client portal/file sharing service to share and collaborate.
Many of the cool features with eFileCabinet includes scan and make files digital, organize your documents, send files in multiple formats, locate files and categorize very quickly, and create password protected files.
DigitalDrawer is on-premise, secure digital filing software used in many small & medium businesses, such as retail, manufacturing, realty, education, etc.
DigitalDrawer is designed for departments and small to mid-size organizations looking for a system that can electronically manage all of its files at a reasonable cost. Customers primarily buy DigitalDrawer because of its:
Strong Security

On-premise document storage

Ability to scan and import multiple documents at a time

Ease-of-use
With DigitalDrawer, your business can quickly and easily capture, store, organize, and manage all of its paper records, while simultaneously protecting itself from the very real possibility of losing important documents due to water damage, fire, theft, or simply misfiling a document. Backup DigitalDrawer locally or to the Cloud and restore as needed. From now on, you will have what you need when you need it.
An online file sharing and content management service for businesses. The company uses a freemium business model to provide cloud storage and file hosting for personal accounts and businesses.
Box works in any browser and allows you to easily store and manage all your content online. It also lets you share files instantly and access documents from anywhere. No matter what device you choose, get fast, easy access to documents, project plans, presentations and videos. Always have the latest pitch for your customers, on or offline. Box makes it easy for administrators to maintain a central view of all content and users in their account through a powerful admin console.
The company has developed enterprise grade document and records management software that is: affordable, easy to install, configure and support. The product is sold, installed and supported using remote web based techniques. Deployment and configuration time of the document management software has been reduced to hours and days from weeks and months compared to the traditional offerings.
Its suite of features provide for document scanning, capture, indexing, storage, search, versioning, and document workflow review and approval. You have the flexibility to install FileHold locally on your server for complete security or opt for cloud deployment.

ColumbiaSoft provides Document Locator enterprise document management software to capture, manage, and share paper, email, and digital documents.
Windows integration combines with convenient cloud hosting for an easy-to-use document management solution that needs no support from IT. You can also access important files anywhere from inside Windows, in a Web Browser, on a tablet, or virtually any smart phone.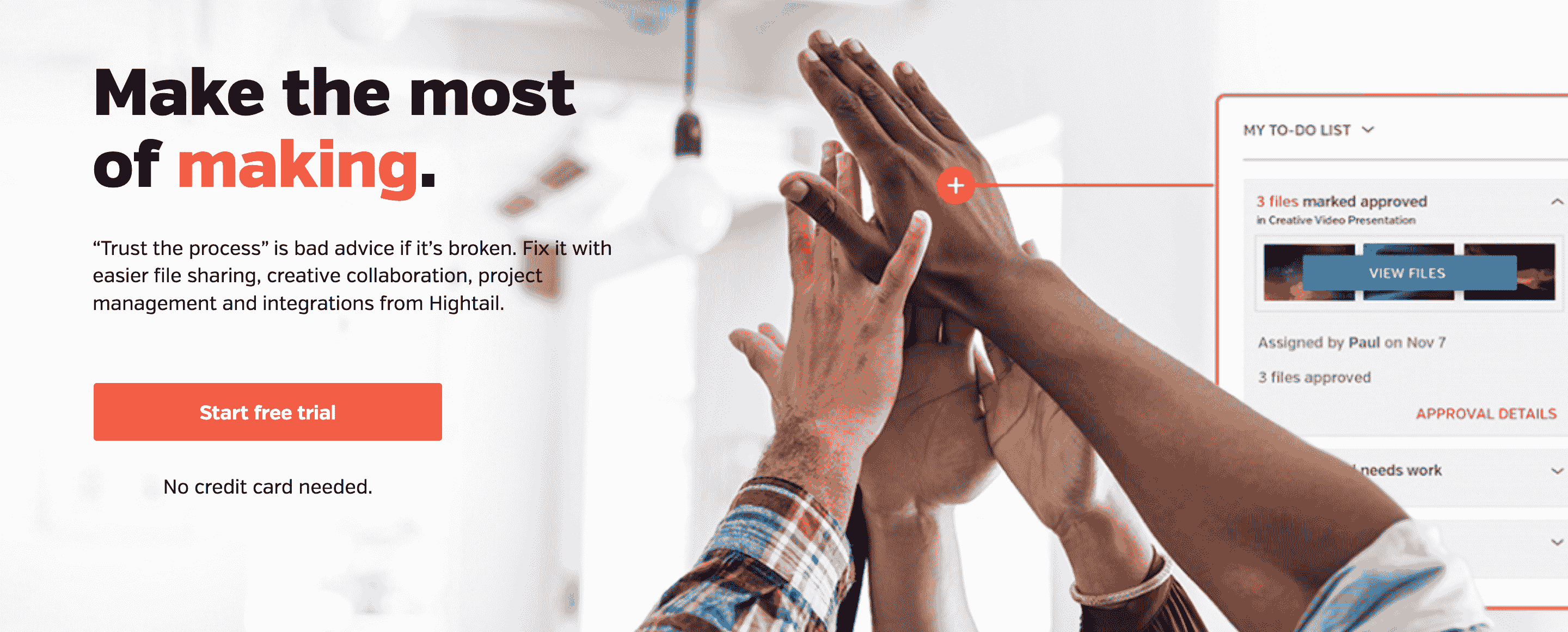 Hightail aims to free the world's creativity by making creative collaboration more intuitive and accessible. As the company that helped creative professionals share their large video, design, artwork, photography and presentation files for more than a decade, Hightail is uniquely positioned to solve the problems of creative collaboration. Having witnessed the exchange of files labeled from "v.1" to "v.12," we recognized the necessity for a more efficient method of sharing ideas, gathering feedback, and reaching the final version.
Evernote Business makes the ideas, research and expertise of your team easily discoverable, creating an open, productive and smarter workplace. Bottom line, Evernote is all about productivity. Some of the great features includes collaborating in a single workspace, keeping team projects and work together, and sharing and giving feedback in one app. You can also sync across computers and phones and collect images, files, and web research.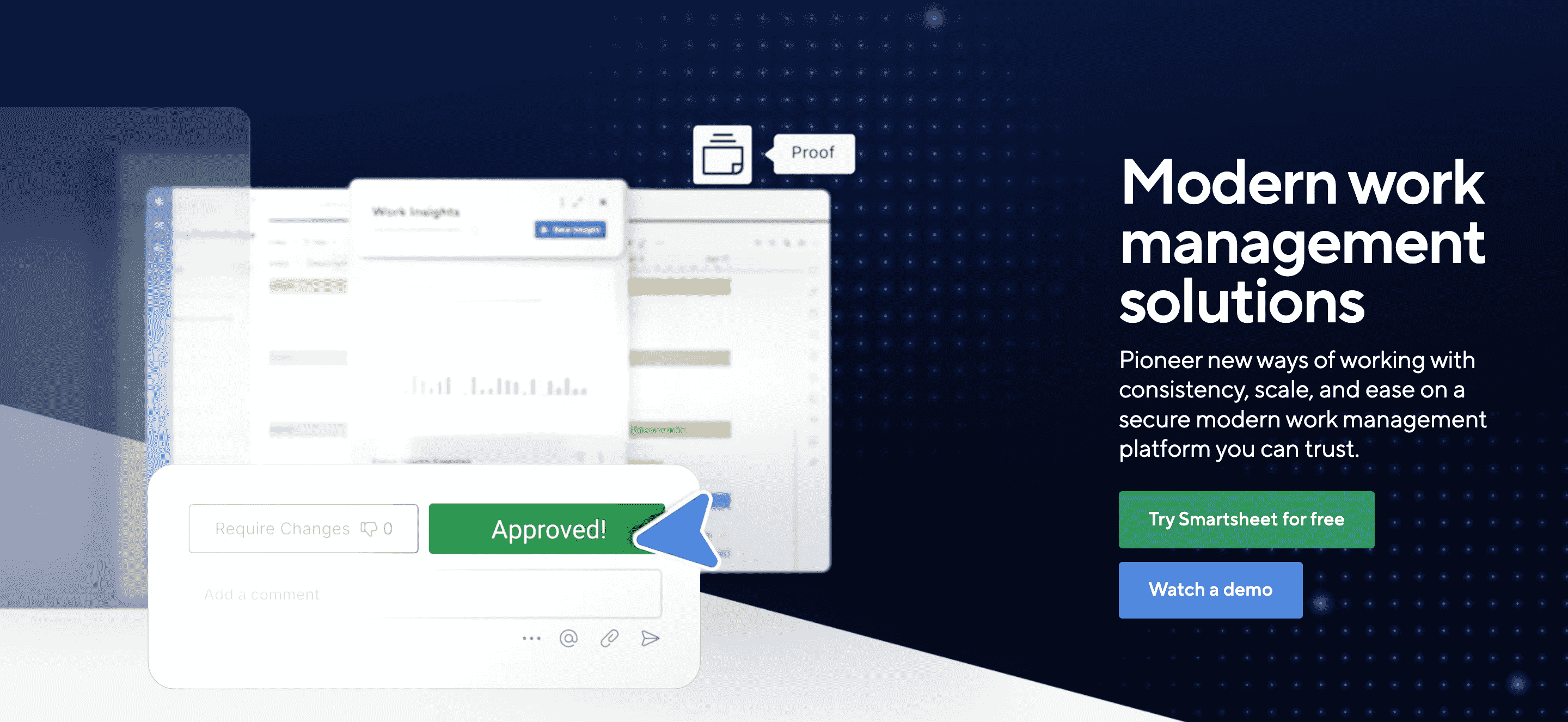 Regarded for its online project management, collaboration, and file sharing features, Smartsheet's intuitive spreadsheet-like app is used broadly to track and manage diverse types of work including: team projects and task lists, customer information, sales pipelines, event schedules, and business processes.
Customers can access their accounts online via www.smartsheet.com or through integrations with leading web services. Smartsheet is a top-rated online project management solution for Google Apps and Salesforce, and is also integrated with leading web apps such as Box, Dropbox and Zapier.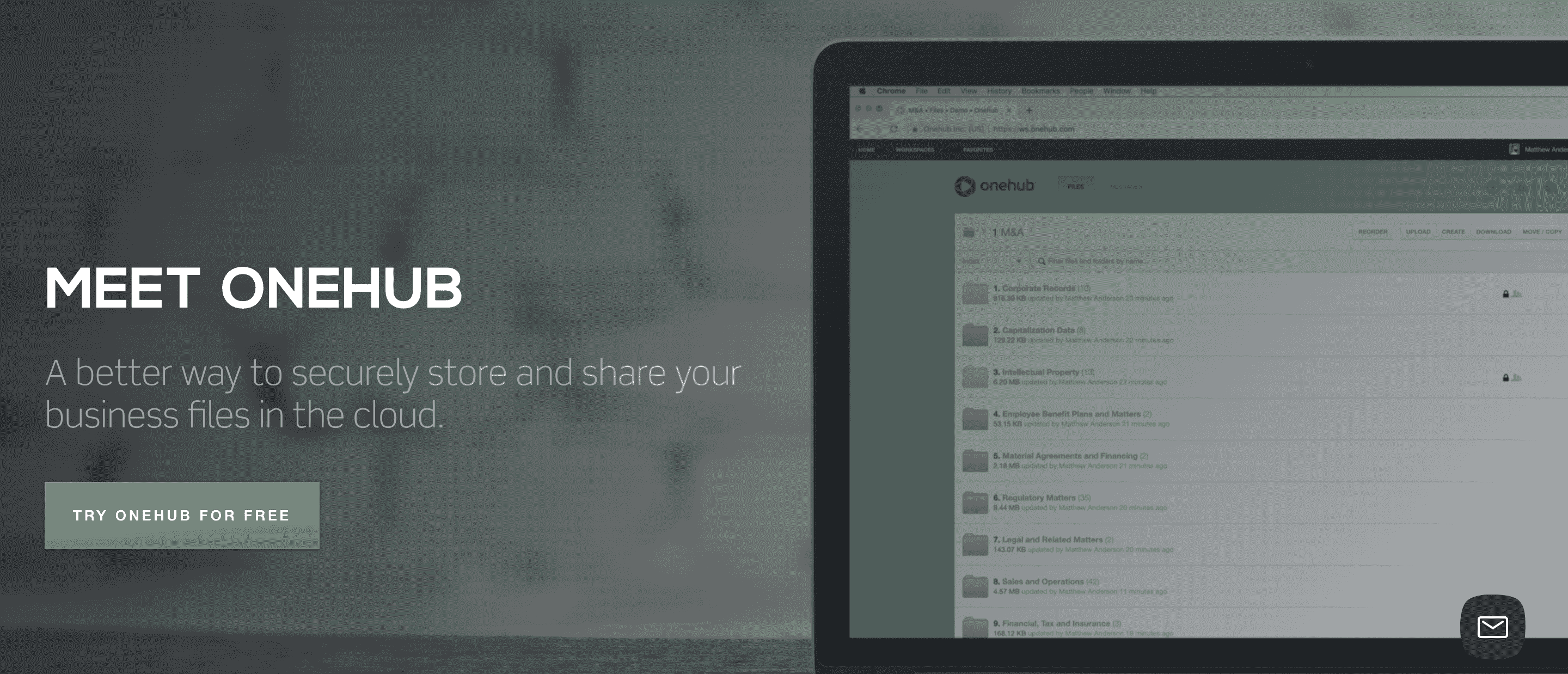 Onehub helps businesses securely share and control files in the cloud. Share files, data and information with confidence. It's features are standard features including dragging and dropping uploading, doing version control (any time changes are made to a file, OneHub genereates a new version behind-the-scenes), folder organization, and also archiving downloading for you.

Document management software that streamlines the day-to-day business activities of thousands of companies around the globe, saving them time and money.
The infoRouter document management system only requires a server side installation that has a few easy steps. There are no client-side components to install. Using the Import/Export Tool, you can import all of your existing documents into infoRouter. With InfoRouter, you can share information on non-shared drives, eliminating the need for mapped drives. Implementing and maintaining security on these mapped drives will no longer be an issue.
The infoRouter Enterprise Document and Content Management system is highly scalable. Up to 100 servers can share the workload making it virtually impossible to outgrow.
With Papertracer, you can automate your workflows and digital documents online. Simplify your audit procedures to support management and regulatory compliance requirements.
The company has two types of software. PaperTracer Enterprise allows you to choose from customizable templates or create your unique integrated solution—all without a dedicated developer. PaperTracer Express offers the most commonly needed templates rightsized for small and medium business (SMB) clients. This software company seems more centered on Healthcare companies.

DocuSign empowers anyone to make every decision, approval, workflow, and signature fully digital. Learn how you can DocuSign and Go from anywhere. DocuSign makes any workflow or approval simple, secure and fully digital, so you can get on with your business, and your life.
DocuSign works with the services and applications such as Microsofy, Salesforce, Google, and Apple. Signaturely is another DocuSign Alternative that makes online signature much easier.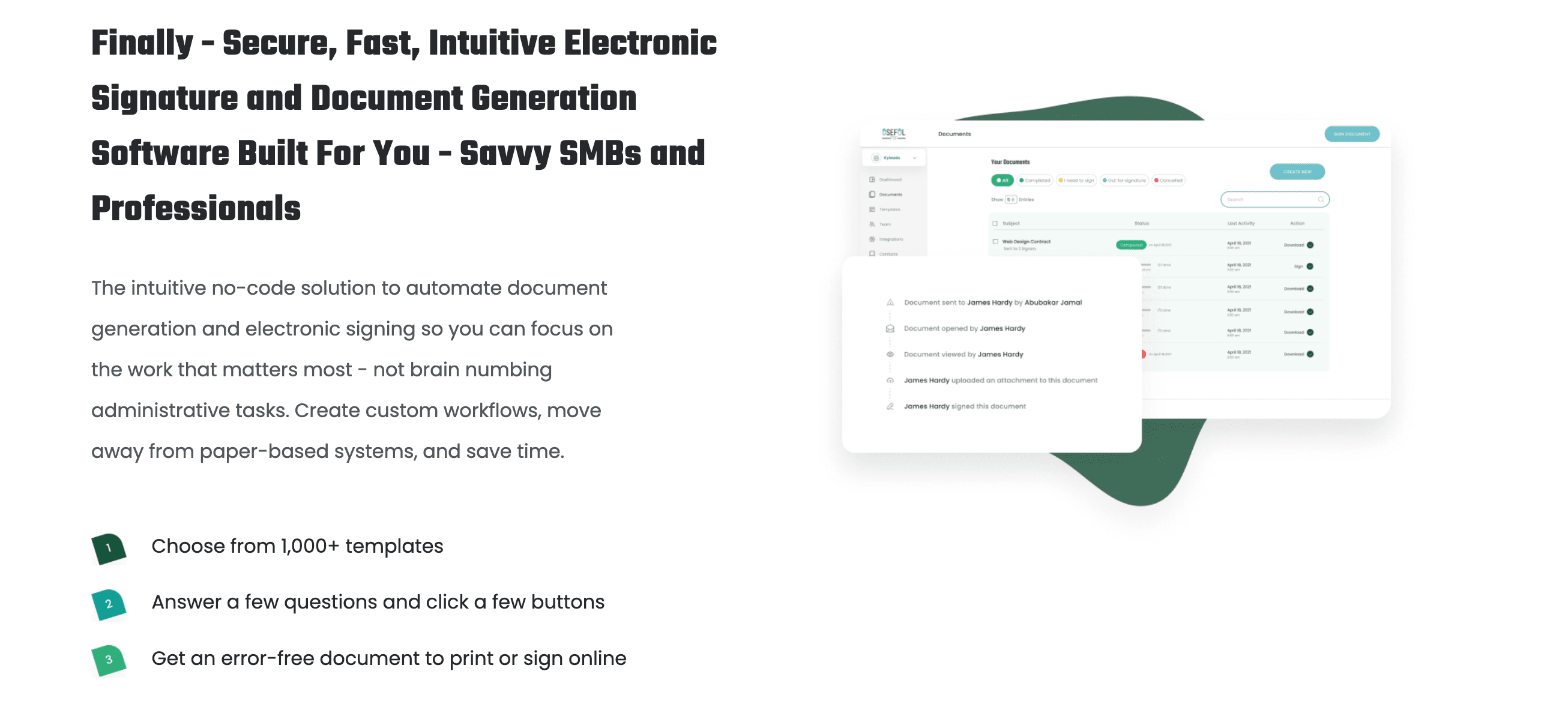 UsefulPDF is an electronic signature and document generation application that allows businesses and individuals to manage important documents. You're able to browse a collection of legal documents such as purchase agreements, power of attorney, employee contracts, etc, fill out a simple questionnaire, download or send them, and store them indefinitely. You can also sign documents with secure electronic signatures, create your own templates, and more.
Sign documents online

Choose from hundreds of business documents and legal documents

Intuitive interface

Invite team members

Create templates that you can reuse for your own needs.

Currently no limits on document storage
22. Image to text
Image to text is one of the finest document generation tools available on the internet that help businesses to manage their important documents with less effort.
This free online tool allows users to extract text from the images and saves its document format with one click. It uses OCR (Optical Character Recognition) technology to recognize and extract text from the image within seconds.
This means that it can take an image of a document and turn it into editable text effortlessly. You can then make required changes wherever you want in the document and save its DOCX file within a single click.
The noticeable thing about this online tool is its text extraction accuracy- and quick results. It extracts text from low-resolution pictures and gives an option to copy it in real-time.
If you have a document in image format that you need to edit or share with others, using a tool like Imagetotext.info can be much faster and easier than manual text conversion.
Conclusion
Document management software offers a wide range of options for businesses and individuals alike. With the help of these 18+ tools, managing documents becomes more efficient, organized, and secure. Whether you need robust features, seamless collaboration, or streamlined workflows, there is a software solution to meet your specific needs. Embrace the power of technology and take control of your documents with these innovative tools. Say goodbye to cluttered desks, misplaced files, and manual processes – the future of document management is here. Start exploring these software tools today and revolutionize the way you handle your documents.