At CustomShow, we like to think that everyone can use our presentation software to create better-looking presentations, thus serving as one of the best presentation & powerpoint alternatives for large corporate enterprises, educational institutions, design agencies, small-to-mid-sized businesses, and highly creative individuals.
We cater to business organizations and individuals that need to deliver engaging and impactful sales pitches filled with videos, animations and other rich media as well as need real time collaboration between presentation designers and presenters. We don't usually promote our competitors. But at the end of the day, we want you to have a pick from the full list of presentation tools that are on the market and that could fit your needs.
If you want to build a business case for a Presentation & Powerpoint alternative in your company then here is a great resource.
Selection Criteria for Presentation & Powerpoint Alternatives
To be objective in our analysis of Presentation & Powerpoint alternatives, we use the following criteria:
Ability to support high definition video, animations, 3D graphics, VR and other rich media to deliver an awesome experience.
Slide library management to enable your sales team to easily customize and personalize each pitch.
Brand and regulatory compliance by providing adequate control on what can and cannot be changed in brand presentations.
Presentation analytics to see how well the audience engaged with your pitch deck when it was shared with them.
If you are truly serious about purchasing new presentation software and need some guidance, you should check out our buying guide to presentation software.
Presentation & Powerpoint alternatives give you plenty of options to choose from. Each has its advantages and disadvantages and we hope you will find your perfect fit. We'll examine the team presentation maker programs we believe would be great and even the ones that may not be but could still be another viable solution.
NOTE: This is a list of 40 plus different presentation software tools. If you're looking for only Free Presentation Programs, check our post on 9 Free Presentation Tools you can start using today. Great for educators and students.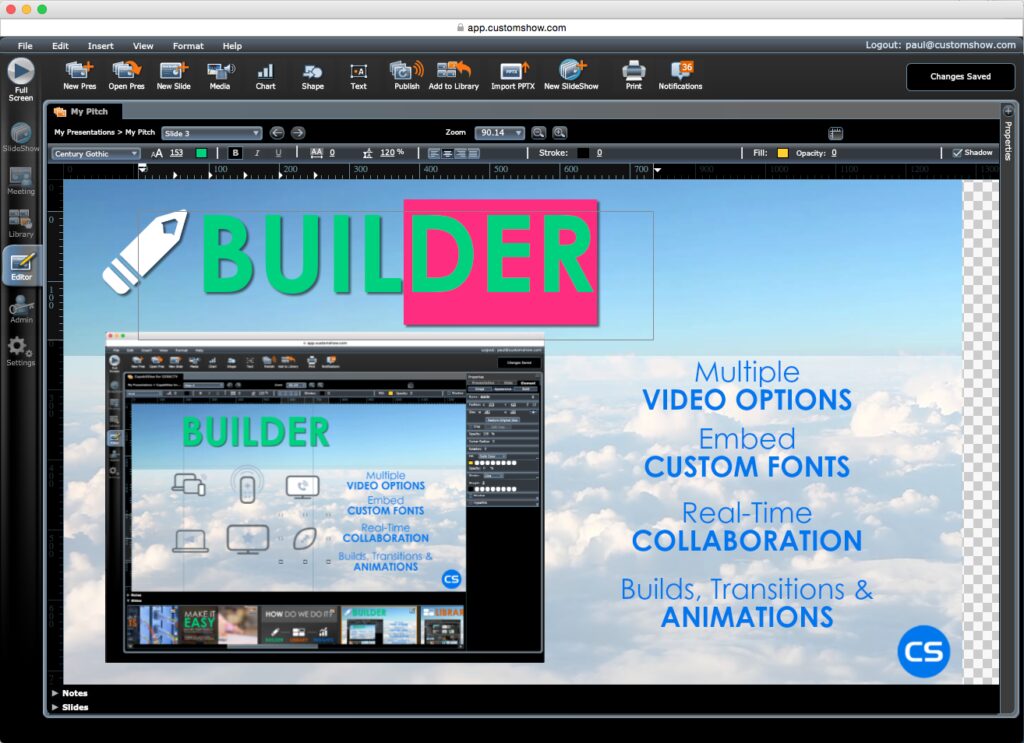 Summary – presentation software program used mainly for businesses and companies with more than 25 employees that need a robust presentation software solution. With over 40 years of rich presentation history, the presentation software was created out of close collaboration with design agencies and sales users who needed to deliver Wow! The software allows companies and organizations to build better custom branded and dynamic presentations that look light years better than your typical PowerPoint presentation. We would consider ourselves a great sales enablement tool because sales professionals benefit a great deal from the software.
Perfect For – Marketing Teams, Sales Teams, Sales Professionals, Digital Marketing and Creative Design Agencies, Professionals, CEOs and entrepreneurs
Other Review Sources – Smart Selling Tools, Techradar, TrustRadius, G2 Crowd, Finances Online
Website: www.customshow.com
No One is Binge Watching Powerpoint
Schedule A FREE Demo With Us
Summary – The mothership of Presentation & PowerPoint alternatives, they've been around for many years. Leveraging the concept of ZOOM and transitions to new spaces on a slide, they give the effect that the presentation has not moved to a new slide. Prezi provides people with creating better style and effect in their presentations. Prezi uses the concept of Pathway Points instead of slides to give the visual cinematic appeal of their presentations. These guys just raised another $50 million in November in order to compete with Microsoft.
Advantages – Present on multiple devices; can share with coworkers; can be used by practically anyone; easy to learn how to use; cost-effective; can work on the presentation offline;
Disadvantages – Very template-driven – always looks like Prezi; cannot easily customize slides or repurpose presentations; can cause motion sickness.
Perfect For – Educators; Keynote Speakers; Organizations; Students
Other Review Sources –Erez Zukerman From PCWorld; Edward Mendelson of PCMag
Summary – The mothership of PowerPoint alternatives, they've been around for many years. They decided to make a stronger push for the business market. Thus, they came out with Prezi for Business. Lots of companies already use Prezi for one-off presentations like conference keynotes, town halls and investor pitches, but this version is trying to target the managed and repeatable presentations of sales and marketing teams.
Advantages – Better for teams; good for collaborating.
Disadvantages – Very template driven – always looks like Prezi; hard to edit by non-designers; not easy to repurpose content.
Perfect For – Medium-sized companies that require limited customization by the sales team.
Other Review Sources – G2Crowd, Medium

Summary – This is a template-based platform that allows people to create elegant looking presentations. The software comes with 35 many templates and over 35 million stock photos that can be used within the slide templates. This platform is a step between a company like CustomShow and Powerpoint.
Advantages – easy to use; fast onboarding process
Disadvantages – cannot do offline work with the App; cannot truly Customize presentations in anyway you want
Perfect For – students; educators; presenters in general
Other Review Sources – Joel Mathis of MacWorld; JR Bookwalter of MacLife, PCWorld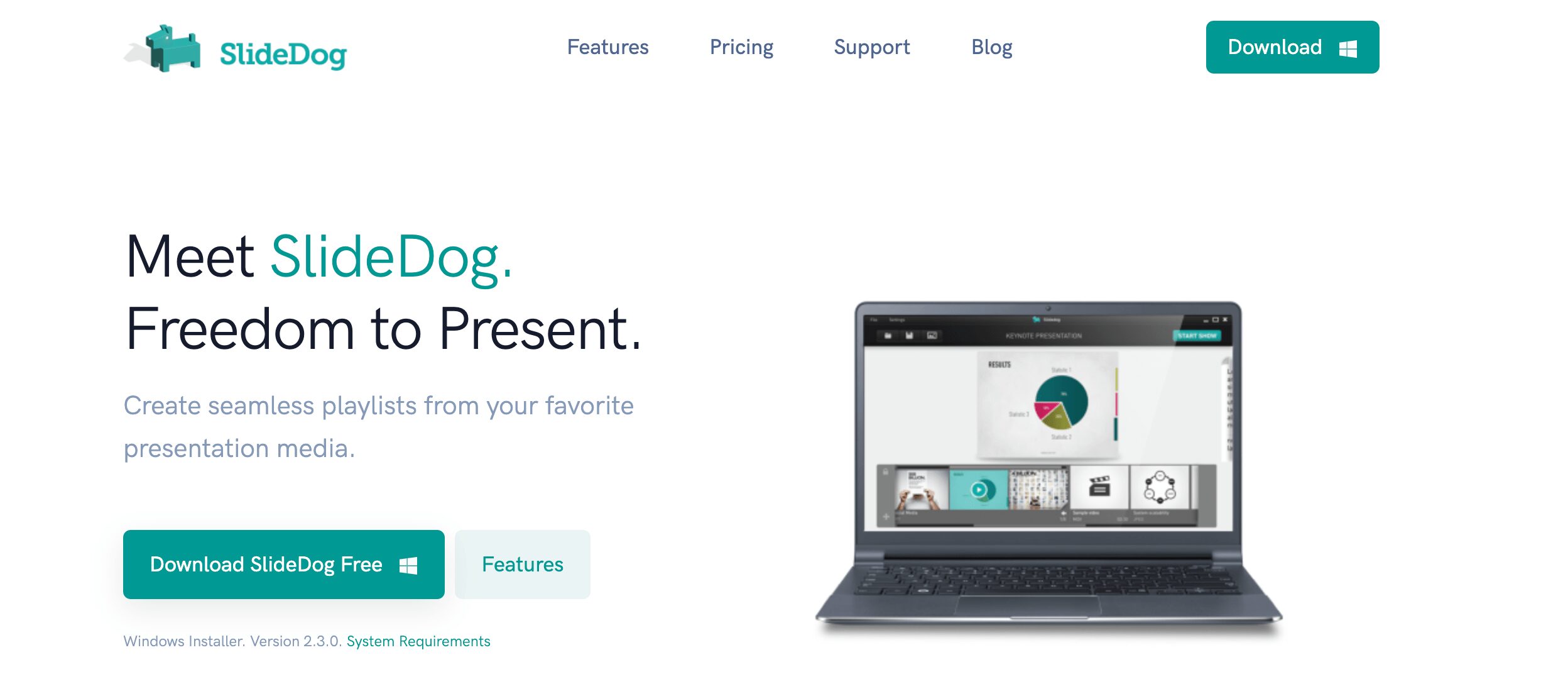 Summary – Known as a presentation launch pad, SlideDog mainly takes all of your documents, presentations, pictures, or video and places them into a play list that can be moved around and presented in a seamless way. You can upload just about any type of file from videos down to other presentation software devices such as Prezi.
Advantages – Make transitioning smooth; can share across multiple devices; live polling; free version
Disadvantages – Not used for creating presentations
Perfect For – People who want to present more seamlessly across multiple documents; individual presenters
Other Review Sources – FPPT Overview, The Balance
Summary – Probably one of the leaders in the DIY presentation animation space, Powtoon allows consumers to create presentations and videos that are animated, interesting, and engaging. It is not difficult to learn how to use and the software is a breath of fresh air to those looking to create presentations that are different and engaging.
Advantages – Ease Of Use; Truly Customizable Animated Presentations
Disadvantages – Not suitable to live presentations (but that's OK)
Perfect For – Educators (Check out their new app for educators); businesses that want to create a service/product video; small business professionals; trainers
Other Sources – Sarah Perez of TechCrunch; Brightcarbon Review
Keynote – Presentation & Powerpoint Alternative
Summary – One of the standard bearers in the presentation software space, Keynote is meant to allow presenters to create customizable presentations. It comes with 30 themes that you can start with and pre stock photos.
Advantages – Present on multiple devices (Apple owned); easy to share; PowerPoint friendly; inexpensive; allows for animations.
Disadvantages – Can only be used for MAC (ios systems); fairly template driven; no slide library
Perfect For – Business owners and individuals
Other Sources – Joe Kissell of MacWorld; John Martellaro of The Mac Observer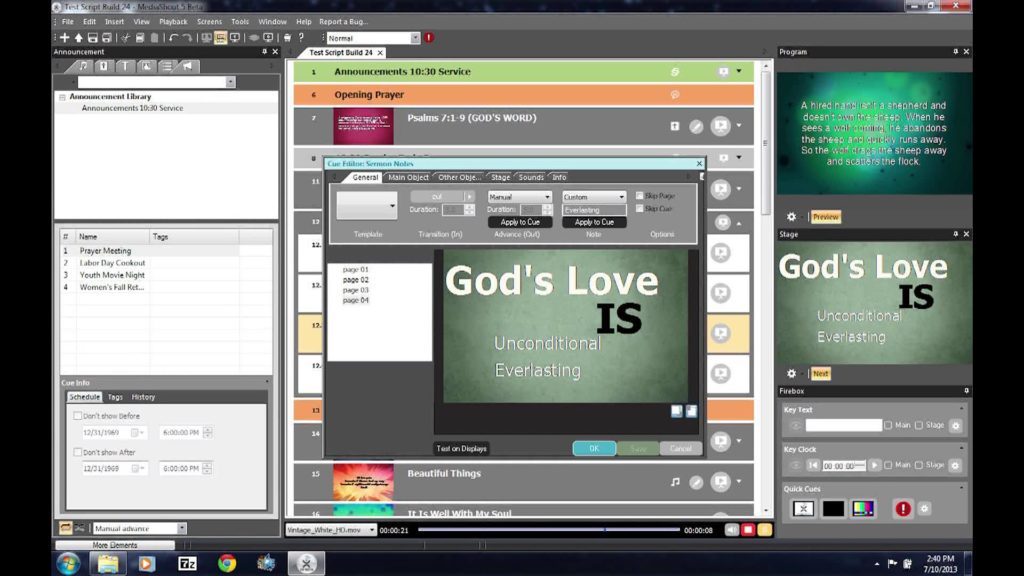 Summary – To switch things up a bit MediaShout is a presentation software tool for religious institutions and churches. It is a powerful platform that can be utilized by churches of all sizes and combines. The software works well with the team that is managing the media and productions during any religious service but particularly during the sermon.
Advantages – Stage mirroring; announcement deck; great with video; add scripture from 65 different bibles; include sermon points; sound and music enabled
Disadvantages – Hmmm…we're not going there.
Perfect For – Religious institutions and churches
Other Sources: Church Tech Today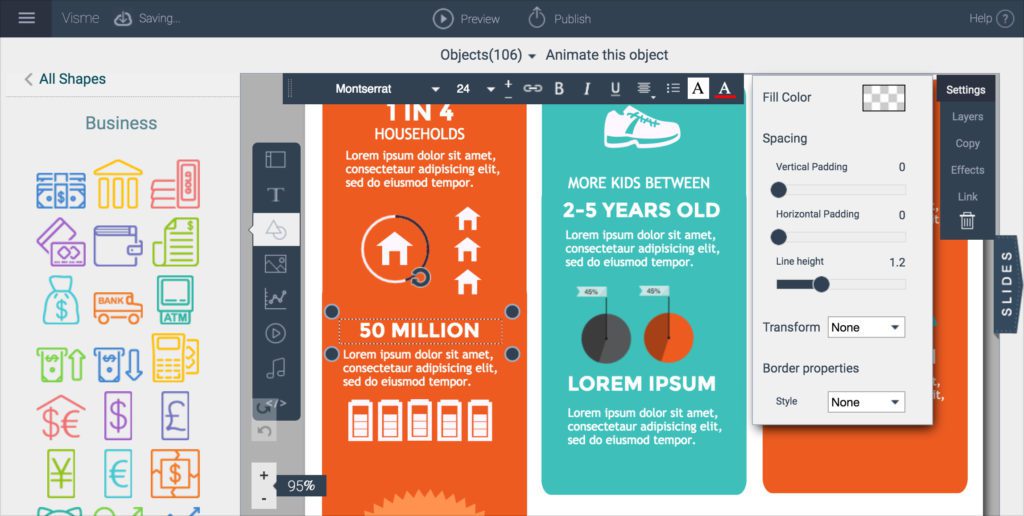 Summary – Visme is a web based tool suitable for students and individuals who want a free tool mainly for one-off presentations or infographics design for social media. The tool is actually relatively easy to use and comes with thousands of templates & graphics. It's relatively new software and is geared more toward infographics rather than presentations, but nonetheless, it's a great tool and It's have more features like whiteboard creator, video maker, flowchart maker Etc.
Advantages – Easy to use and get started with built-in templates and stock photos
Disadvantages – No strong library management or brand control features. Not designed for rich media heavy presentations.
Reviews – CMSCritic, SelfMadeSuccess
Summary – Previously known as GoAnimate, Vyond is one of Powtoon's biggest competitors, Vyond is all about animated video presentations. You can create DIY professional animated videos without having to hire a video producer. It is integrated with other software sales apps and is a solution that can be interesting for budget-busting video animation companies. Of course, there are other whiteboard animation companies, but GoAnimate does showcase another alternative.
Advantages – Great For Video; Cost Effective; Think Product Videos
Disadvantages – Only Animation Centered (Not a real disadvantage though)
Perfect For – Business; Producers; Digital Agencies
Other Sources – Joe Ganci of Learning Solutions Mag, Editing Insider
Wink – Presentation & Powerpoint Alternative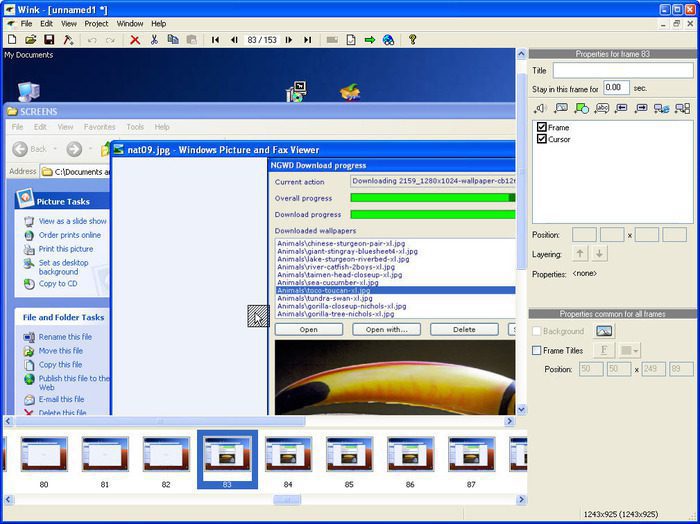 Summary – Wink is a Tutorial and Presentation creation software, primarily aimed at creating tutorials on how to use software (like a tutor for MS Word/Excel, etc). Using Wink you can capture screenshots, add explanations boxes, buttons, titles etc and generate a highly effective tutorial for your users.
Advantages – Free; multilingual; good support
Disadvantages – No 'undo' feature, audio compatibility issues
Perfect For – Individuals and small businesses who just need to create simple animated tutorials and software demonstrations.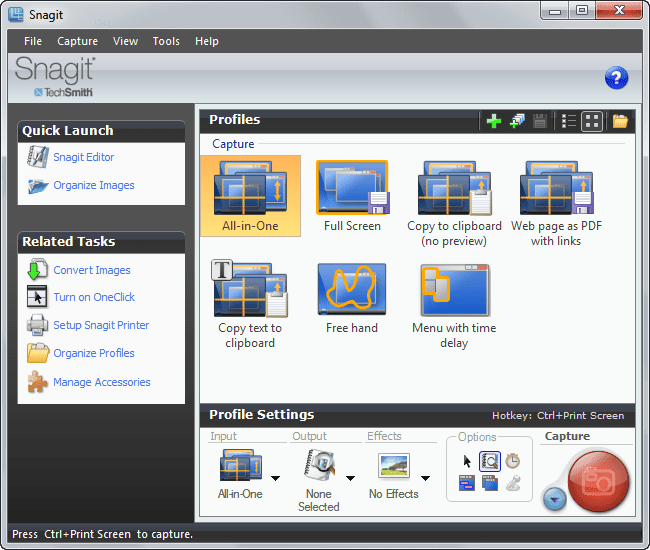 Summary – Owned by TechSmith, it is useful for creating Windows based presentation for software training. Offers advanced features and extra tools for organizing, simplifying, and editing screen captures. If you produce Windows screen shots on a regular basis, SnagIt is a great tool for that.
Advantages – Easy-to-use screen capture program,
Disadvantages – Windows only
Perfect For – Window's screen shot-ers
Other Sources – Tom Negrino of MacWorld
Camtasia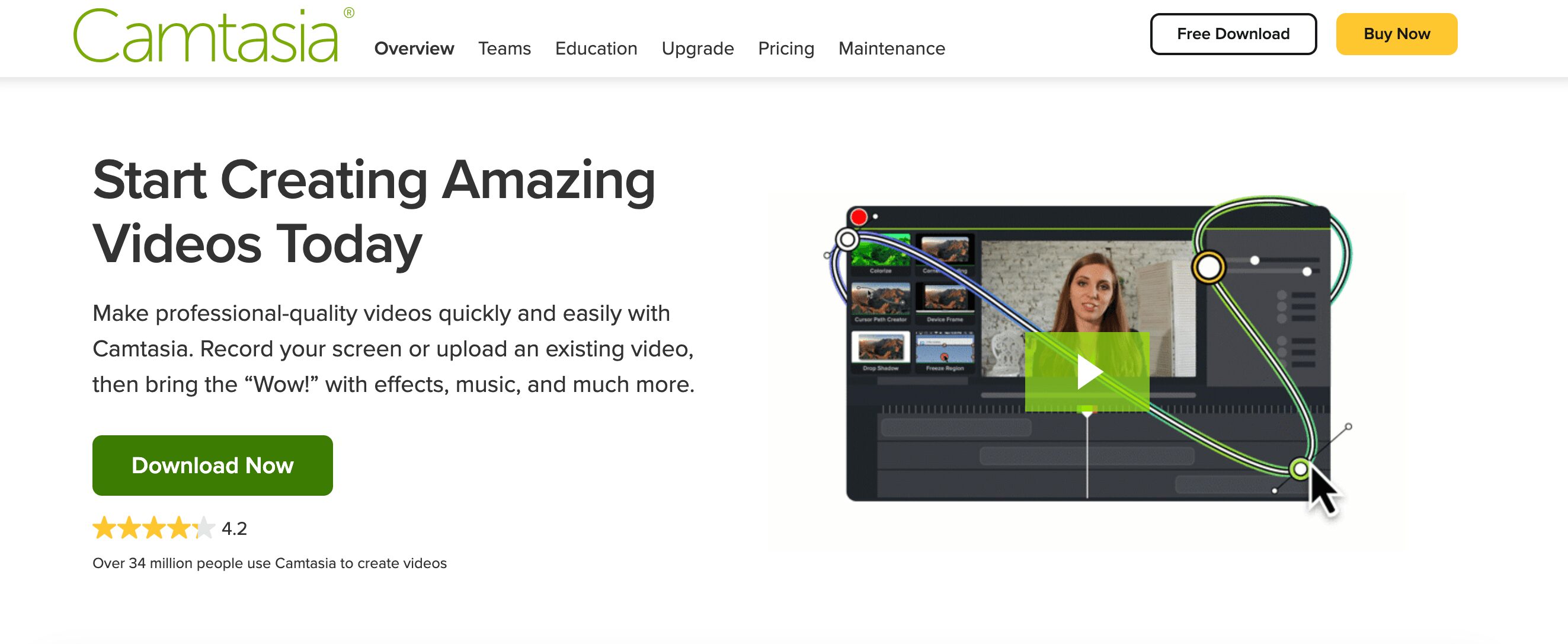 Summary – Also owned by TechSmith, Camtasia Studio is an integrated suite of applications for producing professional videos of on-screen activity. A good Presentation & PowerPoint alternative for customer training and onboarding.
Advantages – 5 applications provide solutions for end to end video production, multiple output options
Disadvantages – Costly for the value
Perfect For – Creating Video demonstrations for customer support, employee training, and product presentations.
Other Sources – Daniel And Sally Grotta of PCWorld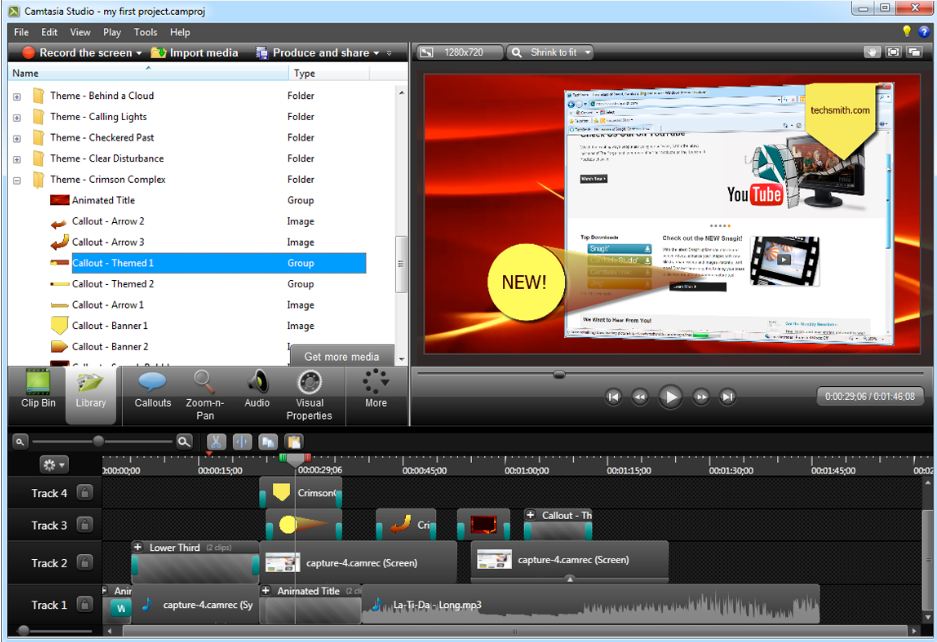 Summary – Free and simple, straightforward program to record screen activity to AVI or SWF format.
Advantages – Free. Video annotation capabilities
Disadvantages – no movie editing, hard to use annotation tools
Perfect For – Students and individuals who want to record and present basic activities for webinars and basic presentations
Other Sources – Michael Muchmore of PCMag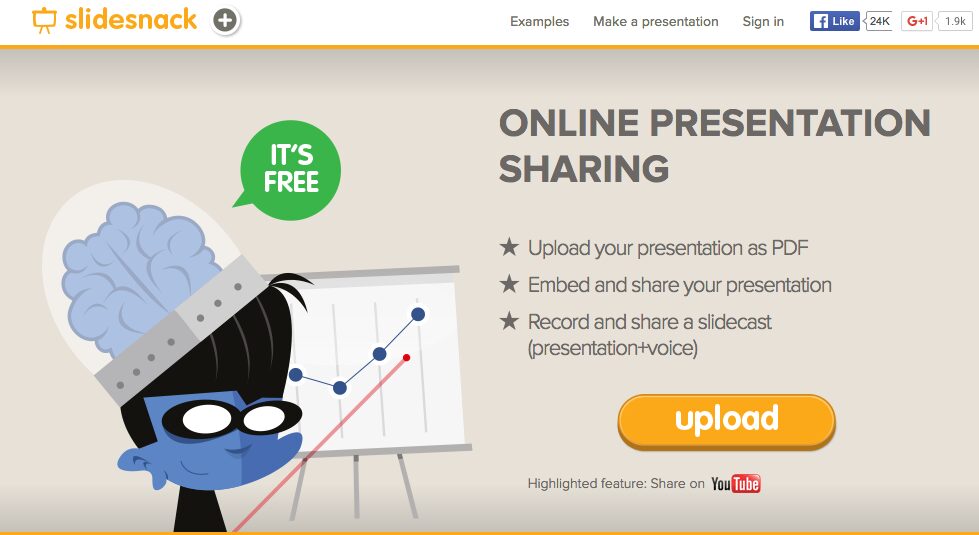 Summary – Started as a presentation sharing tool and has evolved into making flip books for online sharing and embedding from any PDF.
Advantages – Simple and complete solution for turning presentations and print publications into flip books.
Disadvantages – not great for building presentations.
Perfect For – Publishers who wish to transform their printed publications into digital ones.
Reviews – Ed Tech Reviews, Presentation Guru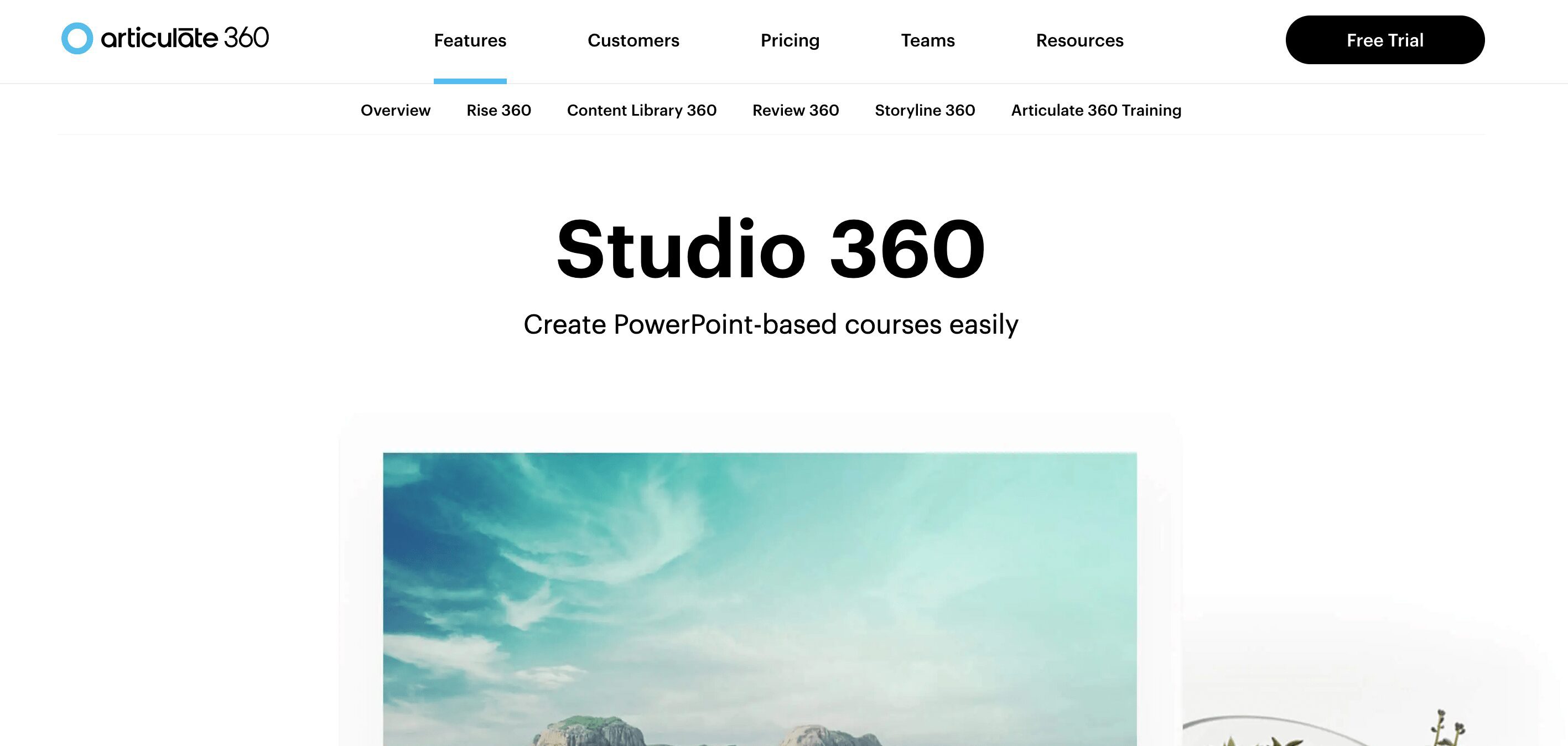 Summary – Articulate Presenter is a program that acts as an add-on to Microsoft PowerPoint. It capitalizes on what PowerPoint can do already, and provides several added features, such as quizzing, narration, and other interactive features.
Advantages – Supercharges the existing functionality in PowerPoint; narration syncs easily to screen animation; functionality is super intuitive
Disadvantages – Content positioning is imprecise, takes ages to publish the content, and Published files are BIG
Perfect For – Educators; Individuals

Summary – Freeware video editing software by Microsoft. It is a part of the Windows Essentials software suite and offers the ability to create and edit videos as well as to publish them on OneDrive, Facebook, YouTube, and Flickr.
Advantages – Free, simple to use for beginners, great for photo slideshows
Disadvantages – Only one video track, freezes and crashes randomly, lots of versions that aren't compatible with each other
Perfect For – Essentially Anyone; Video Production
Other Sources – Michael Muchmore of PCMag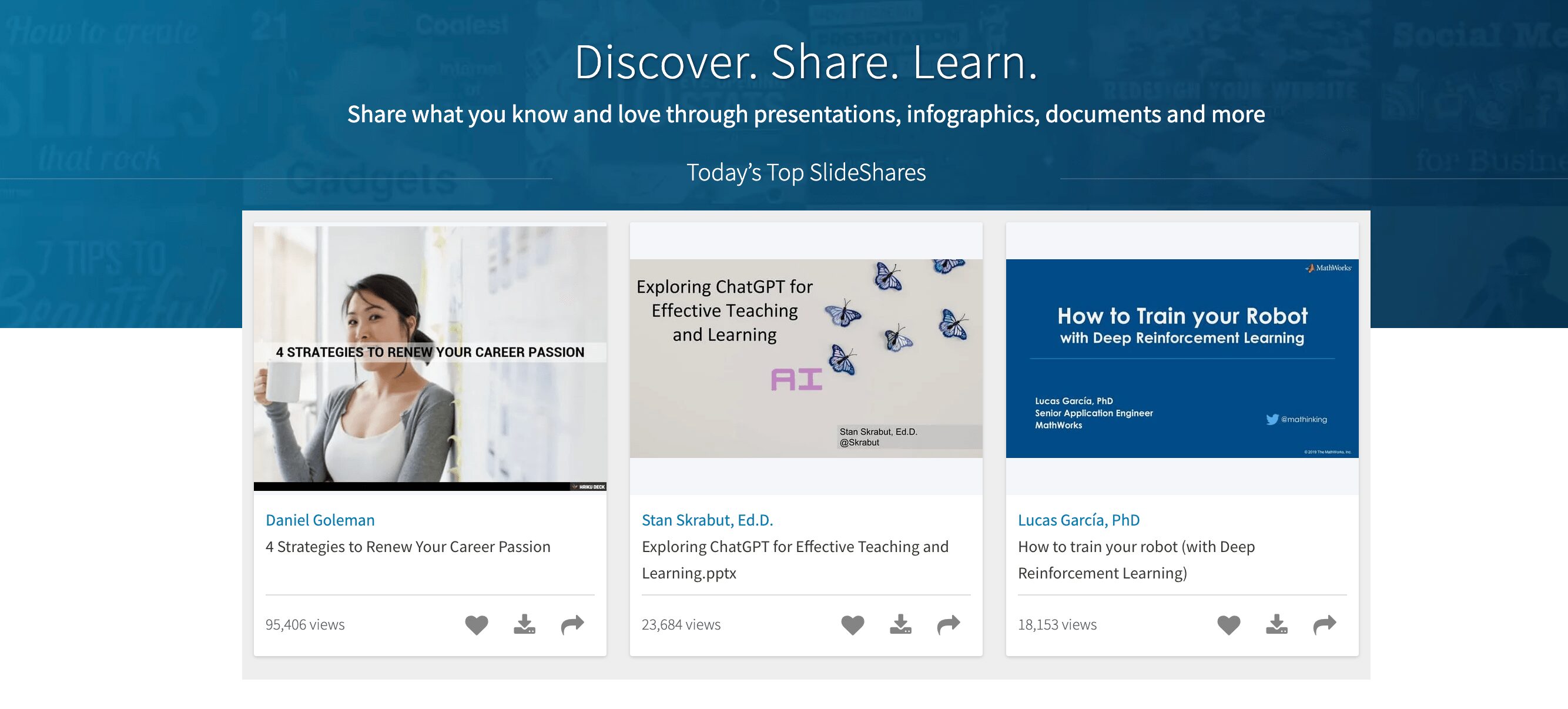 Summary – Allows easy sharing of presentations between businesses and consumers
Advantages – Easy embedding in websites, great for sharing audio and video, custom privacy settings
Disadvantages – Must use other programs to create and edit material, atypical transitions, cannot track views
Perfect For – Students, teachers, and small and large businesses that want public-facing content to reach consumers
Other Sources – Tanya Lewis of PR Week US
Reviews – GetApp, BestCompany
VisualBee
Summary – Automatic graphic designer for PowerPoint presentations that designs a Showcase automatically with just some clicks
Advantages – Easy to Use, Fast, User-Friendly UI, Attractive Templates
Disadvantages – Getting appropriate images requires some selection by hand. Some features redundant to PowerPoint's own.
Perfect For – Individuals
Other Sources – Jill Duffy of PCMag, Indezine

Summary – The Emaze user can easily build sophisticated presentations with little effort. The company's vision was to free up users from having to spend time studying and preparing the presentation tool so that they can better spend their time concentrating on the actual content of the presentation
Advantages – Cheap, designed for ordinary users,
Disadvantages – More of web page designer and not fully focused on presentation.
Perfect For – Basic user base, current PowerPoint users wanting better visualization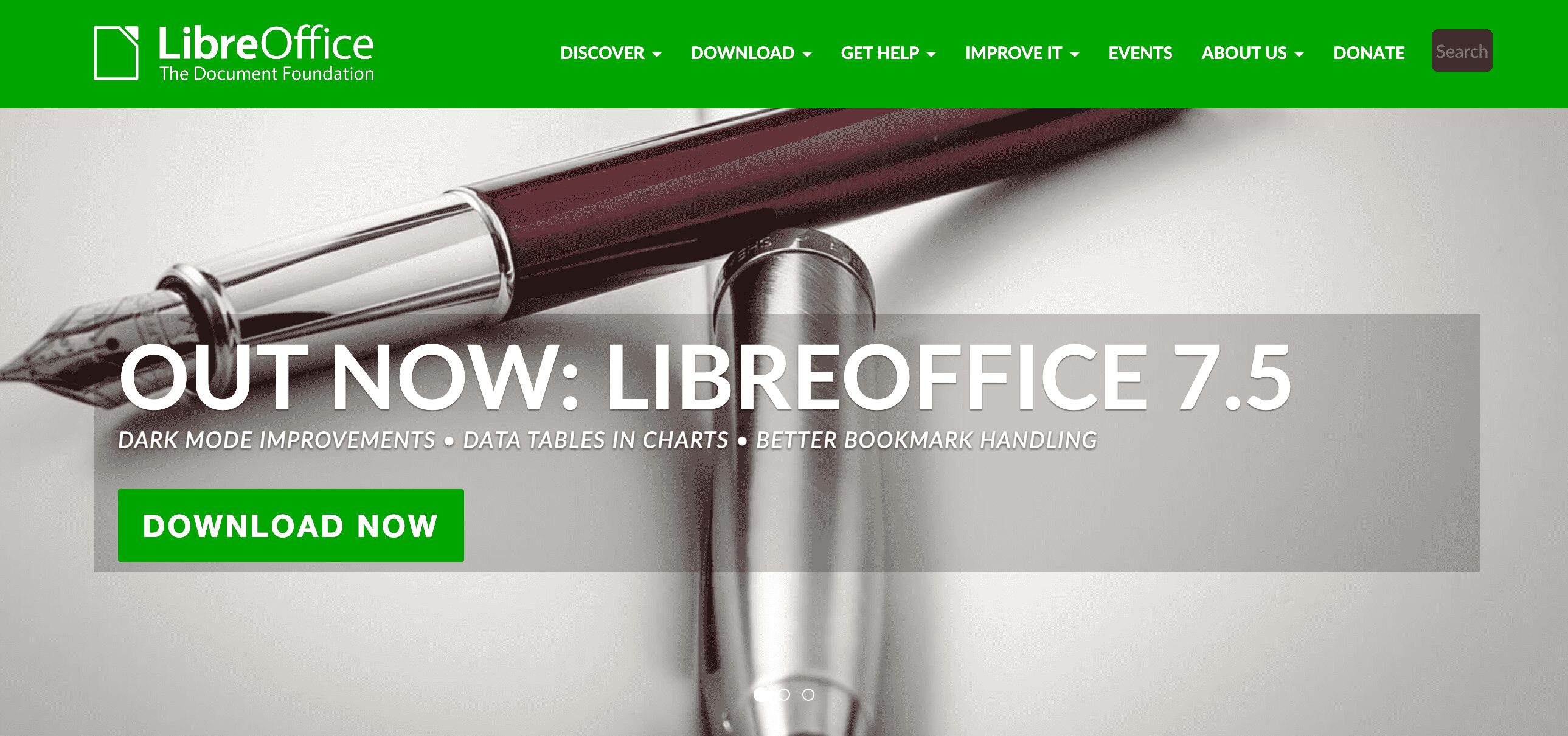 Summary – Impress is the presentation component of Libre Office. It is a truly outstanding tool for creating effective multimedia presentations. Creating and editing slides is very versatile thanks to different editing and view modes: Normal (for general editing), Outline (for organizing and outlining your text content), Notes (for viewing and editing the notes attached to a slide), Handout (for producing paper-based material), and Slide Sorter (for a thumbnail sheet view that lets you quickly locate and order your slides).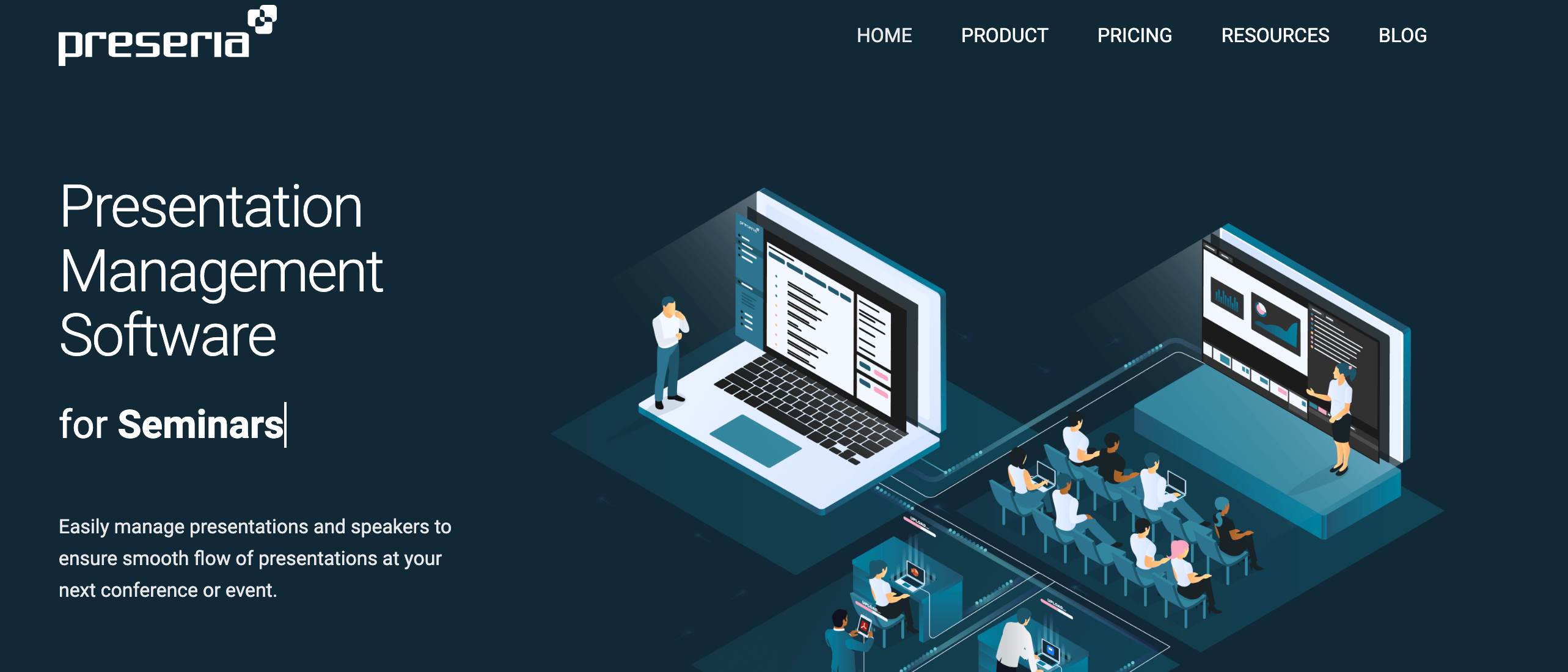 Summary – Now we're in the world of conferences. Preseria is all about presenters uploading their presentations and organizing your conferences. This can be a nifty tool if you're managing large conferences where you have several presenters.
Advantages – Great for Sharing; can Organize and gather content seamlessly
Disadvantages – Can't create custom presentations.
Perfect For – Event Coordinators; Conference Leaders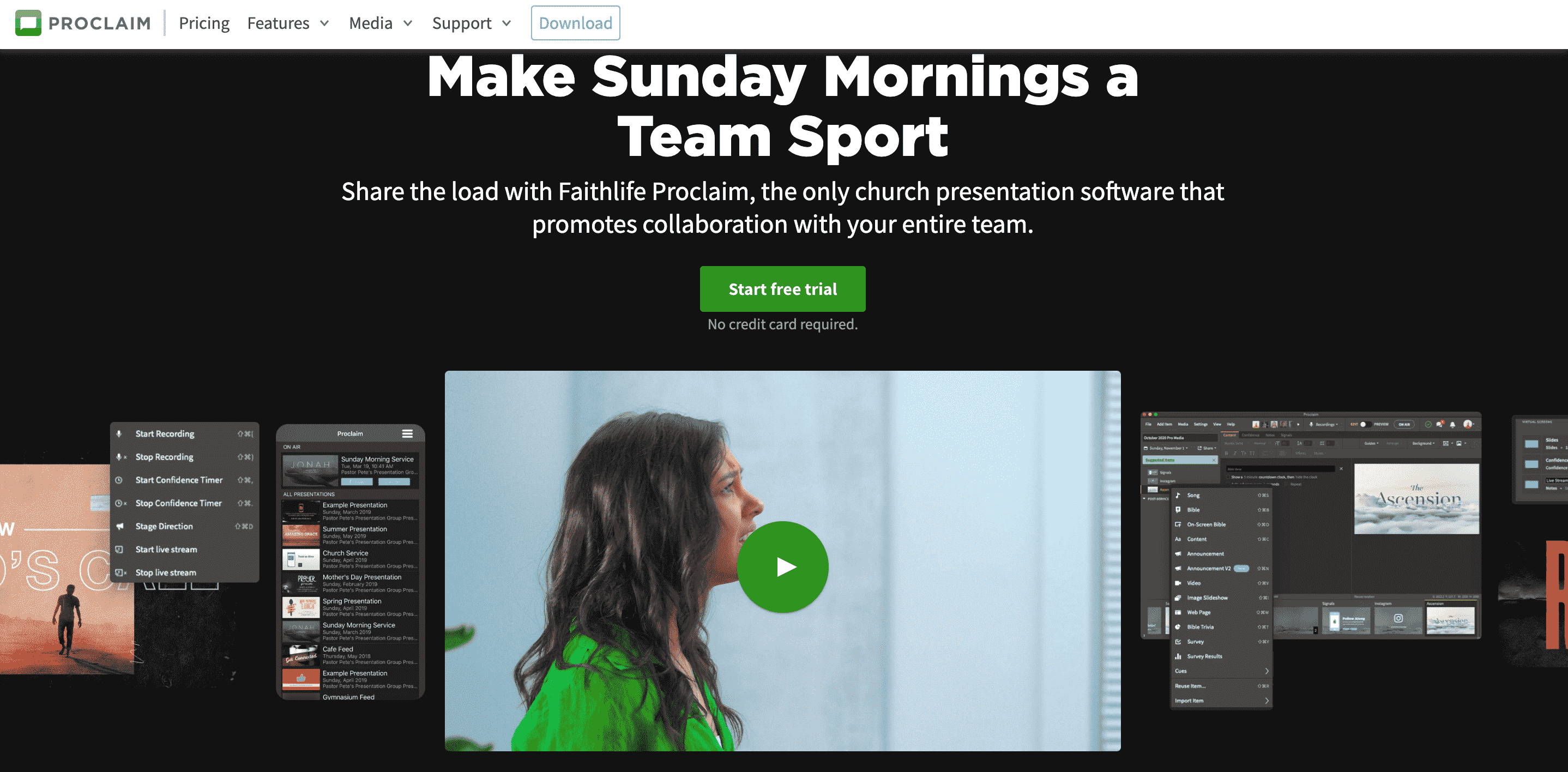 Summary – We're back in the world of churches. Proclaim is all about pastors and assistants uploading their presentations and having the functionality to make any changes to them in order to provide an experience to people listening and watching the sermon.
Advantages – Incredible software for sharing and collaborating with teams of people who are working on the presentation; Organize and gather content seamlessly; Comes with a remote app that can be controlled by your iPad.
Disadvantages – Can't create super customized presentations, but they can be fairly unique.
Perfect For – Churches; religious institutions
Reviews – Church Tech Today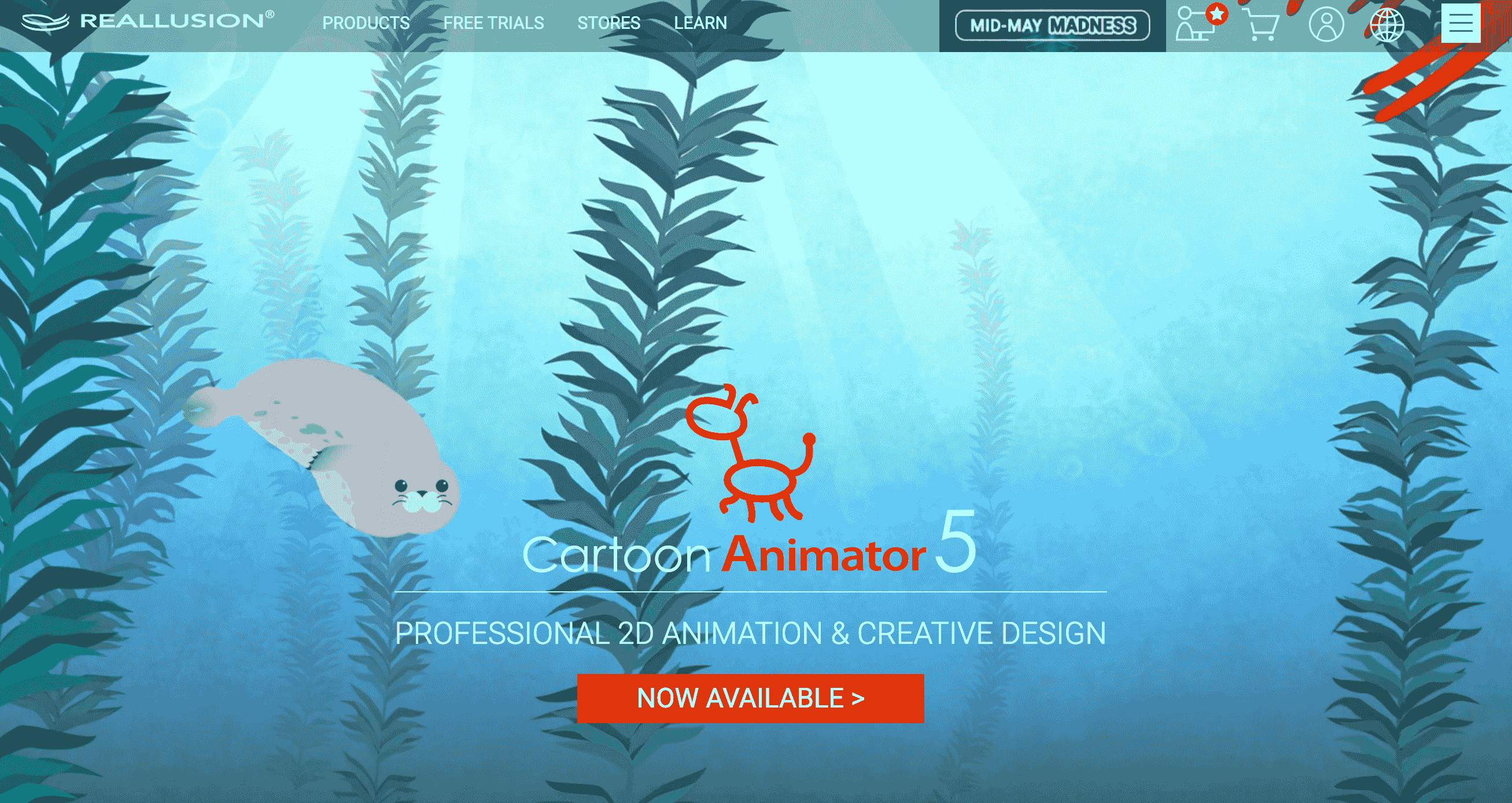 Summary – Moving back into animation, this software is pretty nifty. You can create animated figures for your presentation in a shorter period of time. Great for presenters to quickly add animated avatars and comic effects into PowerPoint, Keynote, Google Doc and other presentation software.
Advantages – Full editing capabilities; well-categorized content libraries; added to other presentations
Disadvantages – Can't create presentations within the software, however, Reallusion does have other software in its suite that can do this.
Perfect For – Individuals; Business; Keynote Speakers; Designers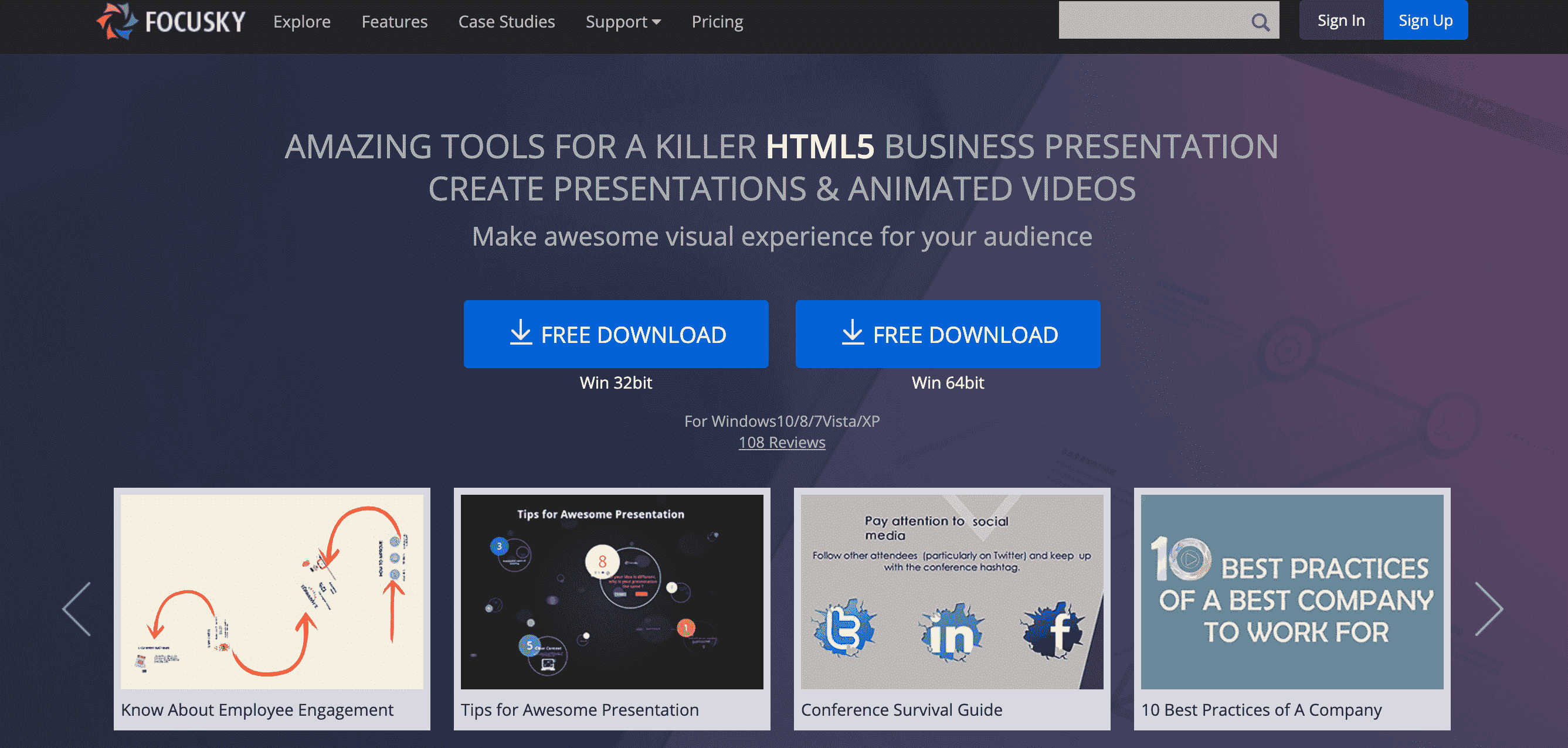 Summary – Focusky helps mainly with creating animation presentations as well as presentations in HTML5 format.
Advantages – Full editing capabilities; can present from anywhere; animation capabilities; import PowerPoint slides
Disadvantages – It May not have as much functionality as CustomShow but is great for individuals; mainly for animation, not traditional presentations.
Perfect For – Individuals; students; teachers
Reviews– G2Crowd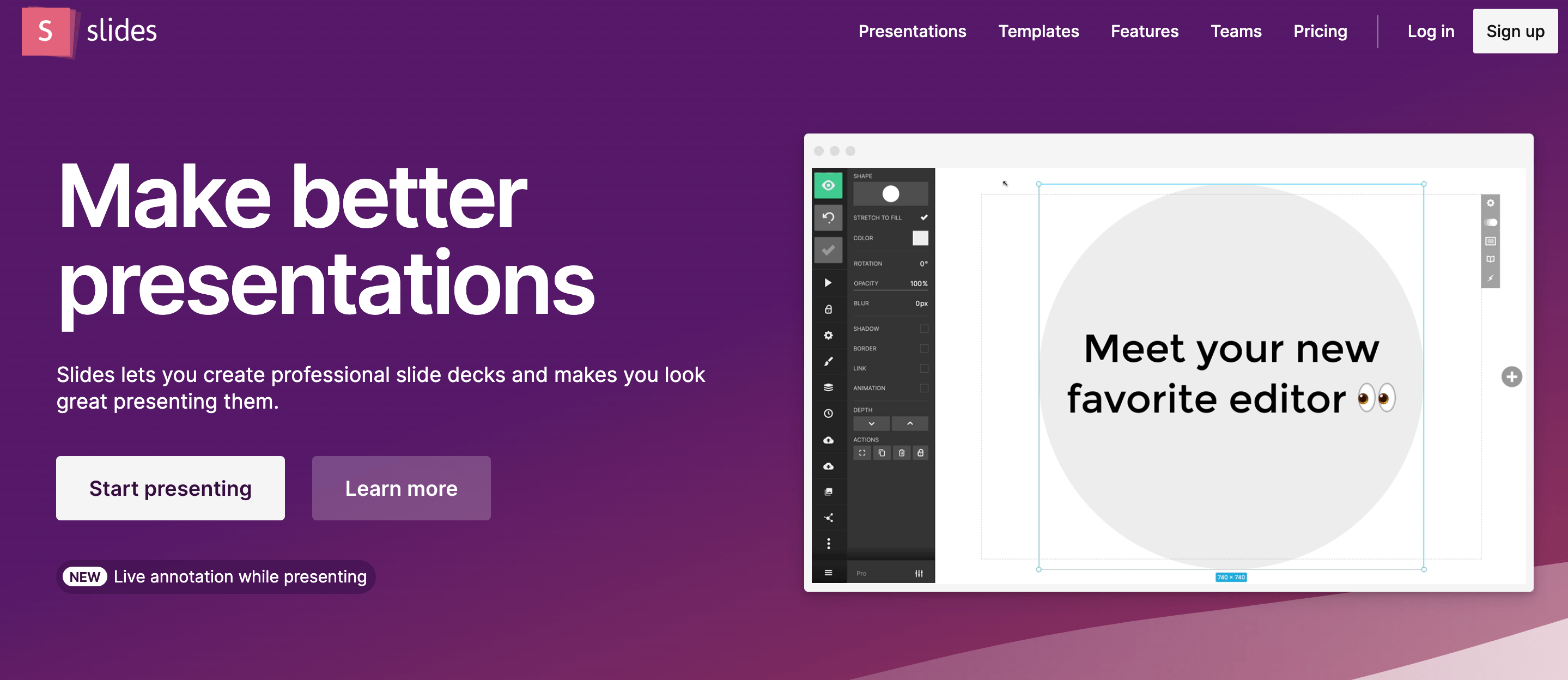 Summary – Slides.com is a cloud based simple presentation software.
Advantages – Full editing capabilities; can present from anywhere; cloud based; comes with analytics; incorporate HTML and CSS in the presentations
Disadvantages – It May not have as much functionality as CustomShow but is great for individuals
Perfect For – Individuals; students; teachers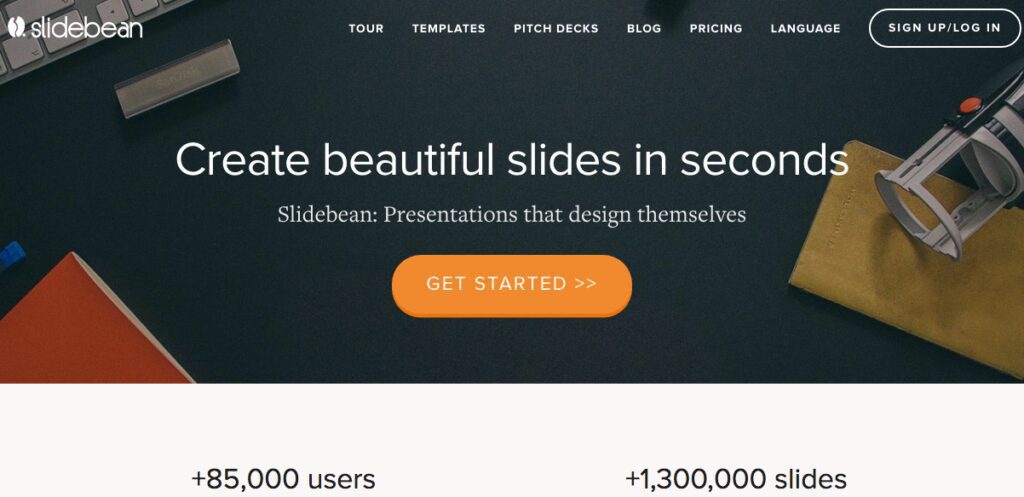 Summary – Slidebean focuses on presentations for pitching startup ideas, consulting and design projects.
Advantages – Ease of use; quick to develop presentations; focused templates for the target audience.
Disadvantages – May not have as much functionality as CustomShow but is great for individuals; not best for teams; not entirely customizable
Perfect For – Individuals; students; teachers
Reviews – Finances Online, Ethos3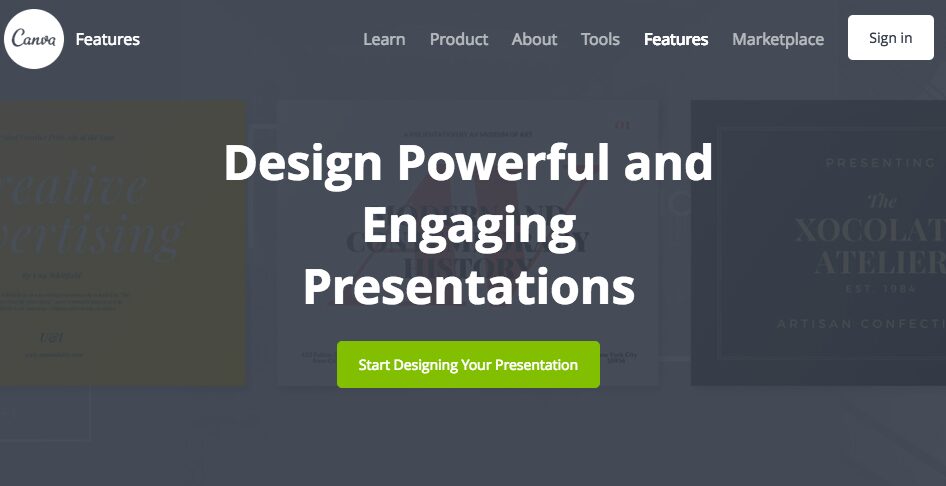 Summary – Another graphics design tool that also allows creation of presentation.Mostly used by students, educational professionals and small businesses.
Advantages – Lots of templates to get started.
Disadvantages – Not a serious presentation software solution. Consider it for making infographics, etc. for social media posting.
Perfect For – Individuals; students; teachers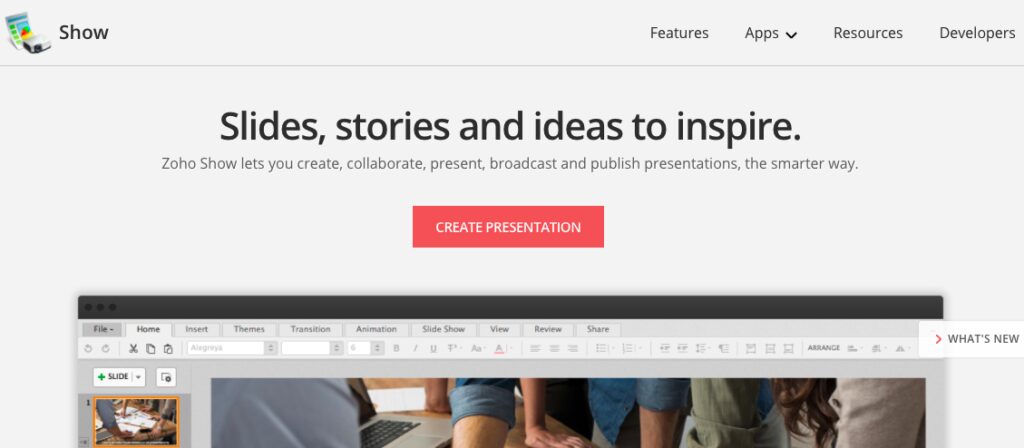 Summary – Part of Zoho OfficeSuite, Zoho Show offers a great interface for people who want to design eye popping presentations. Zoho is pretty broad in its software and service offerings ranging from document management tools to collaboration and sharing. Their pricing on the document management side can be as low as $5/month/user. Doesn't really compete in the B2B space, but nonetheless is a great player with many benefits including transferring to PowerPoint, analytics, bulk file uploads, and much more.
Advantages – Minimalist design, lots of templates, collaboration
Disadvantages – Not suited for rich media presentations, does not provide great analytics
Perfect For – Users who subscribe to Zoho solutions
Reviews – PCMag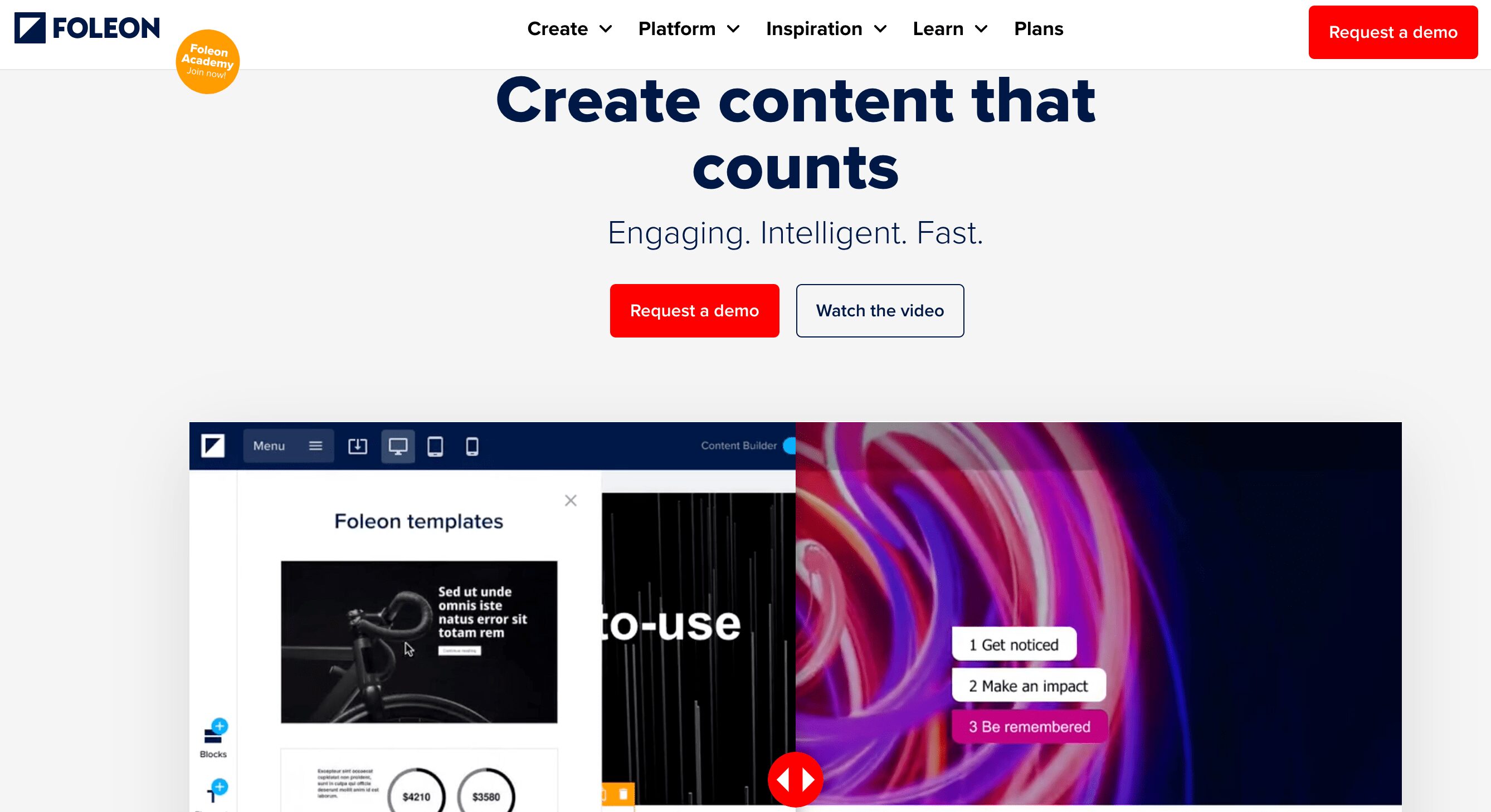 Summary – Foleon, previously known as Instant Magazine allows you to create interactive publications which make your content come alive. It is one tool, for all platforms, for all devices. Get the best reading experience on smartphones, tablets and desktops. Personalized and fully measurable.
Advantages – Rich-media support, analytics, easy web based publishing of content
Disadvantages – Not powerful or flexible enough for sales teams to build presentations
Perfect For – Digital marketers who want to create web based content
Reviews – Crunchbase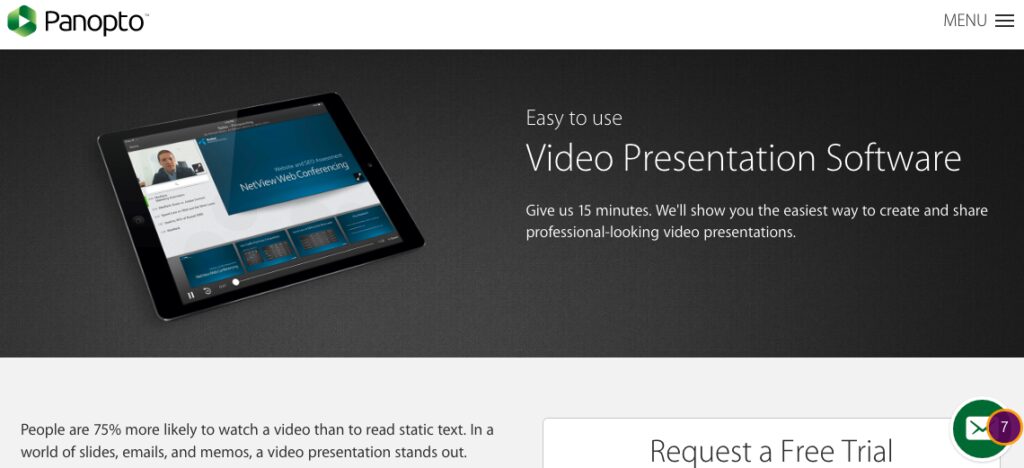 Summary – At Panopto, the company believes that video can have a transformative effect on learning. So they built a video platform that helps businesses and universities improve the way that they train, teach, and share knowledge. Panapto acts as a video presentation software package that allows consumers to manage, live stream, record screen, and share videos across your organization.
Advantages – Powerful video capture and sharing tools
Disadvantages – Not very useful if your presentations require text and support for other media.
Perfect For – Corporate training and education
Reviews – SteamingMedia, FinancesOnline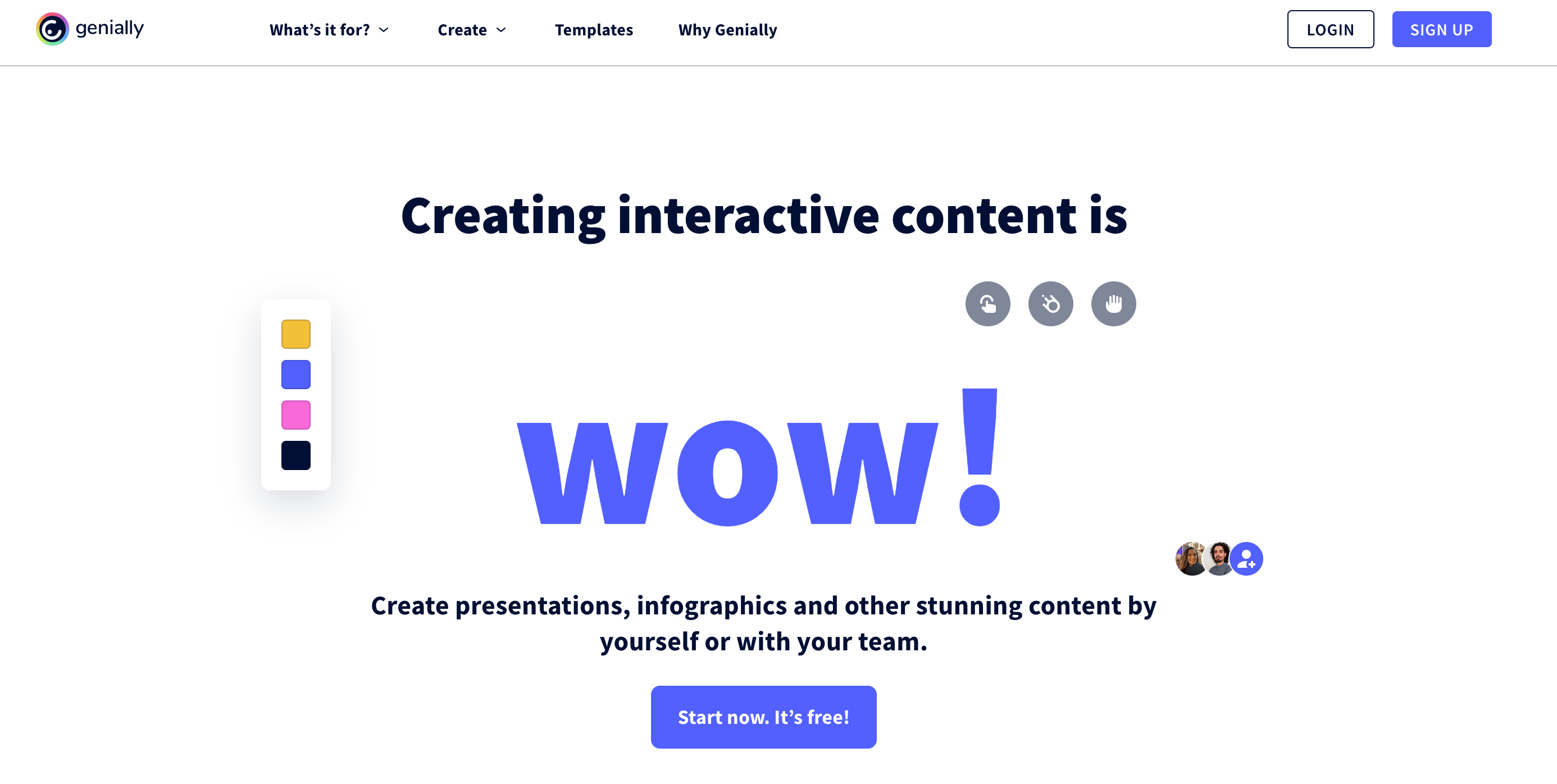 Summary – Genially is a helpful tool for creating visual media, such as presentations, infographics, mind maps, and more. The focus with Genially is interactivity, and nearly everything created with this tool can include interactivity. It also includes real-time collaboration and animation. In addition, statistics help you measure whether your presentation is effective.
Advantages – Easy to use and interactivity
Disadvantages – Not a serious corporate contender, lacks its own analytics, not designed for rich media presentation
Perfect For – Individuals, teachers
Reviews – Tutsplus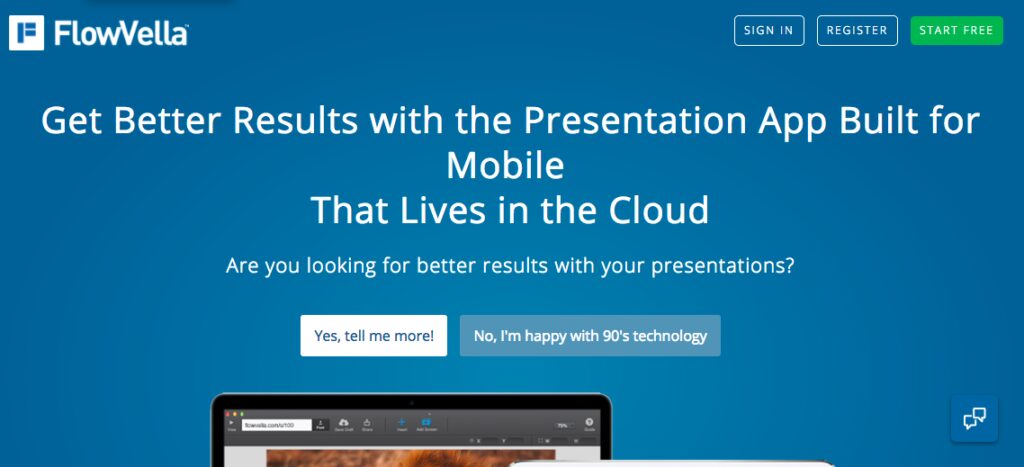 Summary – FlowVella is another presentation app with several benefits and features including its being mobile first, offering privacy and security, analytics, autoplay videos, and a vast array of collaboration tools. FlowVella has native apps for Mac, iPhone & iPad, yet presentations can be viewed via any web browser. FlowVella is great for sales presentations, training, kiosks, digital brochures, portfolios, product guides, formal and informal education, and much more.
Advantages – Inexpensive, free version
Disadvantages – Not designed with rich media support, collaboration or brand and compliance control in mind.
Perfect For – Individuals
Reviews – TechCrunch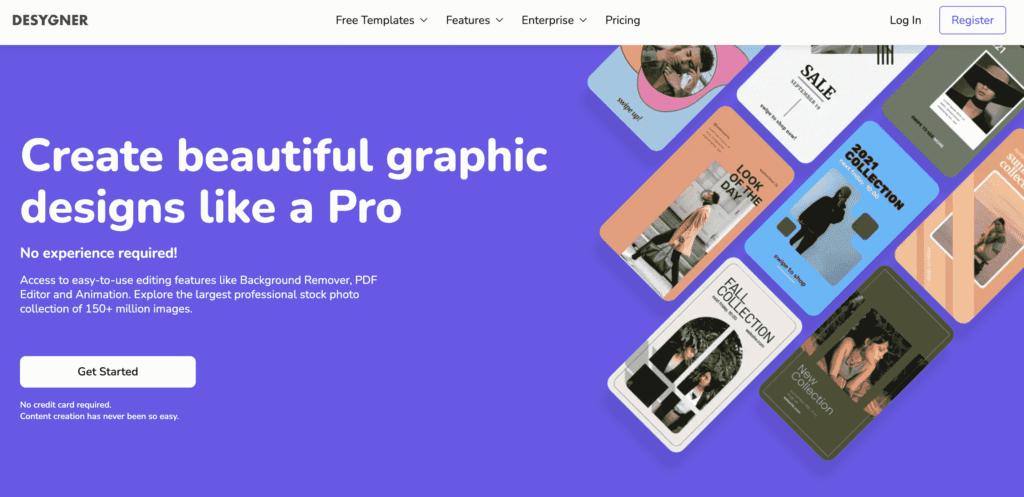 Summary – An easy-to-use graphic design tool made for nondesigners, thanks to its simple UI and Drag and drop feature to make fast and precise editing. Features like background remover, Image Animator, PDF Editor, and many more is free to use. with thousands of free templates, not only. It also has access to 125 million Shutterstock images.
Advantages – You can do it All in One Tool
Disadvantages – Some stock images are not accessible for free
Perfect For – Students, Teachers, Non Designers, Everyone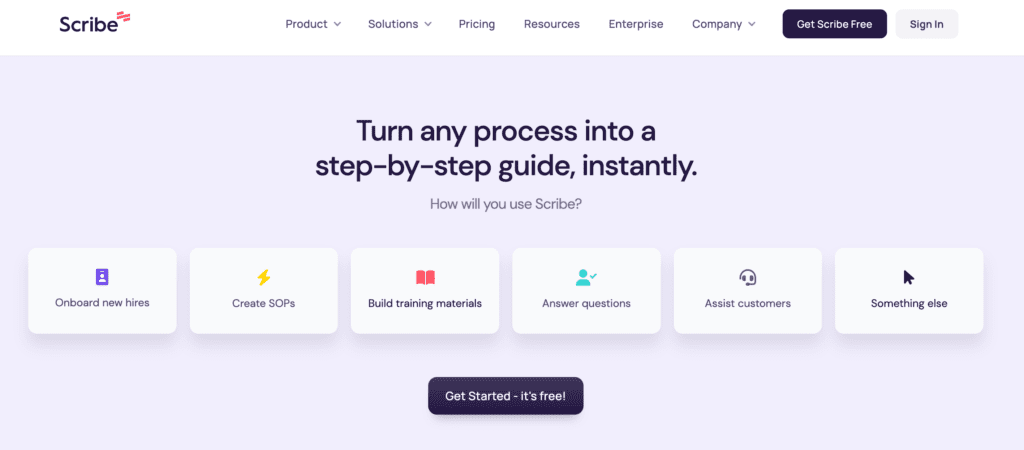 Summary – Scribe is a Chrome extension that captures your screen, instantly turning a process into a step-by-step guide with screenshots. A good PowerPoint alternative for customer or employee training and onboarding.
Advantages – Free tool, simple to learn. Consistent and aesthetically pleasing guides for training.
Disadvantages – Not intended to replace large presentations, rather intended for sharing instructions or tutorials.
Perfect For – Creating step-by-step instructions in business – onboarding, training, standard operating procedures, technical manuals, and more.
There are probably an additional 50 – 80 presentation software tools we missed on this list. We know there are others we likely left out, so we look forward to your comments and other Presentation & PowerPoint alternatives that can be useful for presenting or organizing/delivering presentations.
And if you believe you are a good match and should be added to this list, feel free to email us and we'll consider adding you.
Discontinued Presentation Software
We list the presentation programs that we had previously listed as Presentation & Powerpoint alternatives but are no available.
SlideRocket Marketing Software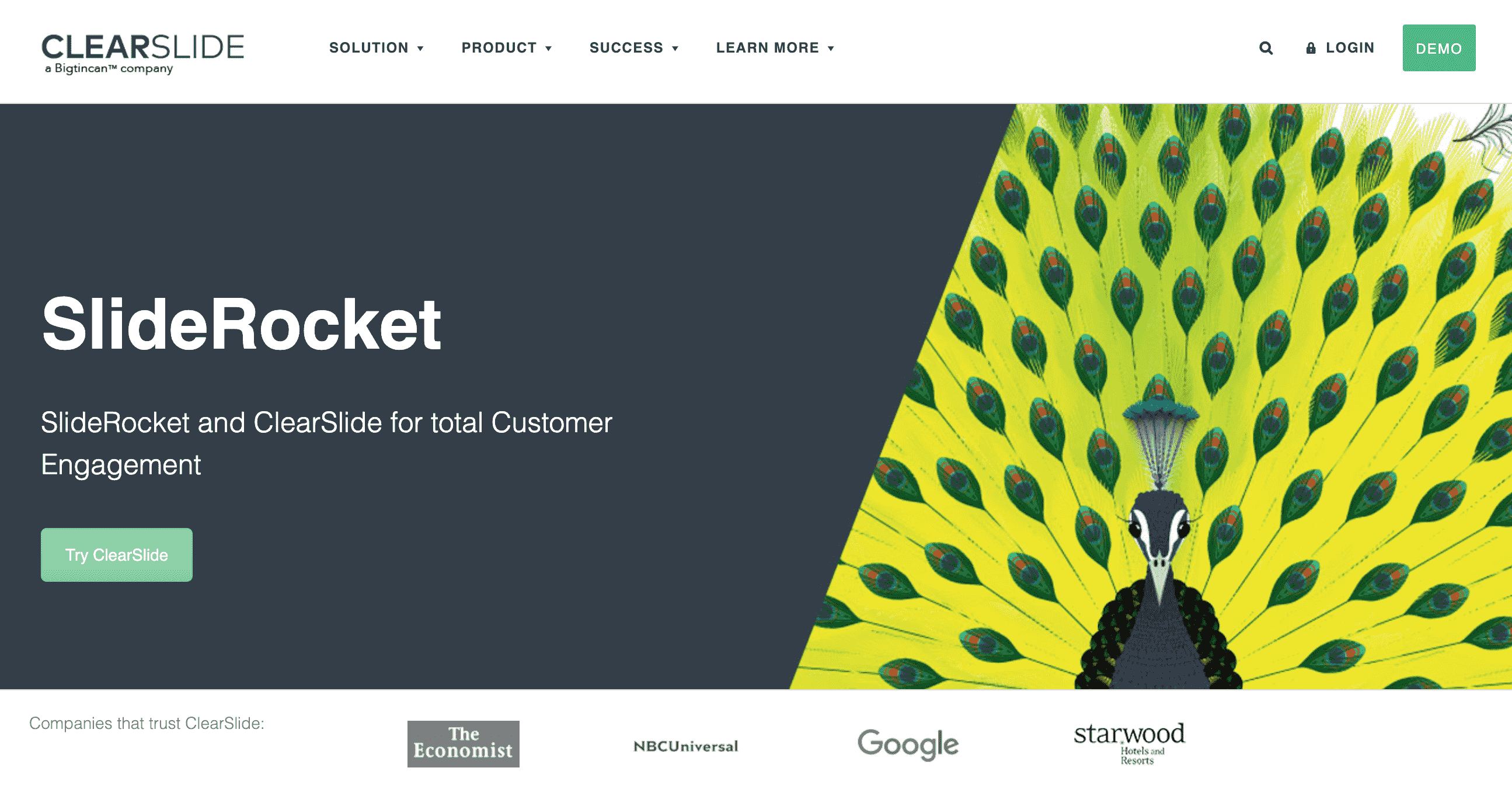 Summary – Sliderocket was purchased by Clearside, which in turn was purchased by BigTinCan. If volume sales is important to you, Clearslide could be a good tool for you. There is more emphasis on sales and tracking than the presentation creation side of the software. After going through a series C $50 million round of funding, the company is focusing more on sales enablement and less on presentations specifically. Nonetheless, the tool is worth reviewing.
Advantages – Can upload files from Keynote, Powerpoint, PDF, Excel and other formats; good metrics; online delivery; slide sharing
Disadvantages – Interface is complex and limited in the ability to create a "better-looking presentation"; video isn't seamlessly integrated into presentations.
Perfect For – High Volume Sales & Marketing Organizations
Other Review Sources – Edward Mendelson from PC Mag; Jessica Still at Gigaom
Slidesharks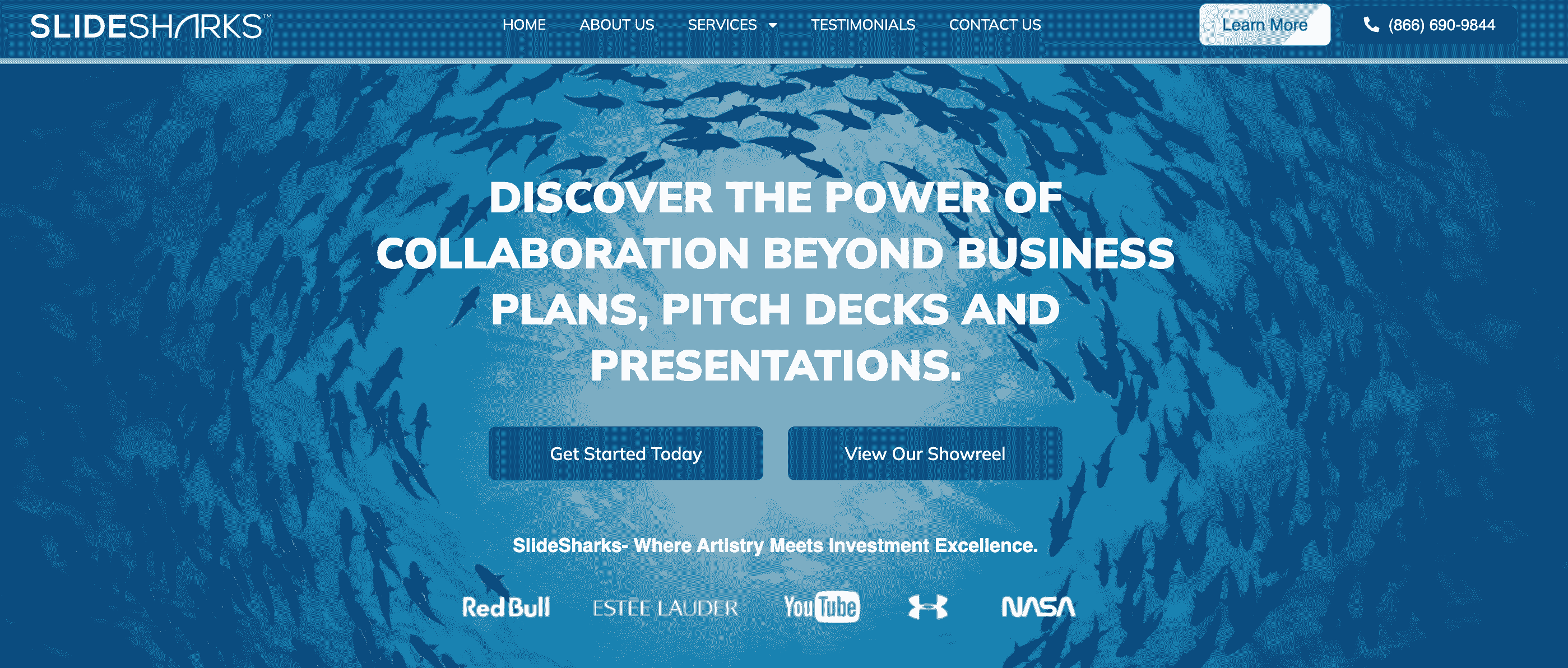 Summary – Another discontinued product. SlideShark was a mobile app used by sales professionals and other presenters worldwide to present and share PowerPoints via their chosen devices. Its features include cloud storage integration, sharing and tracking views, broadcasting or presenting over the web, creating annotations on the slides, and of course presenter mode.
Advantages – Can present PowerPoint slides anywhere; cloud-based; free but paid version is known as a Business pro; can be utilized for webinars
Disadvantages – unable to customize presentations; primarily a delivery system (good and bad thing).
Perfect For – sales and marketing professionals; individual business owners.
Other Review Sources – Dylan Herx of AppStorm; Phillip Michaels of ComputerWorld, EdShelf, Engadget
DocketZoom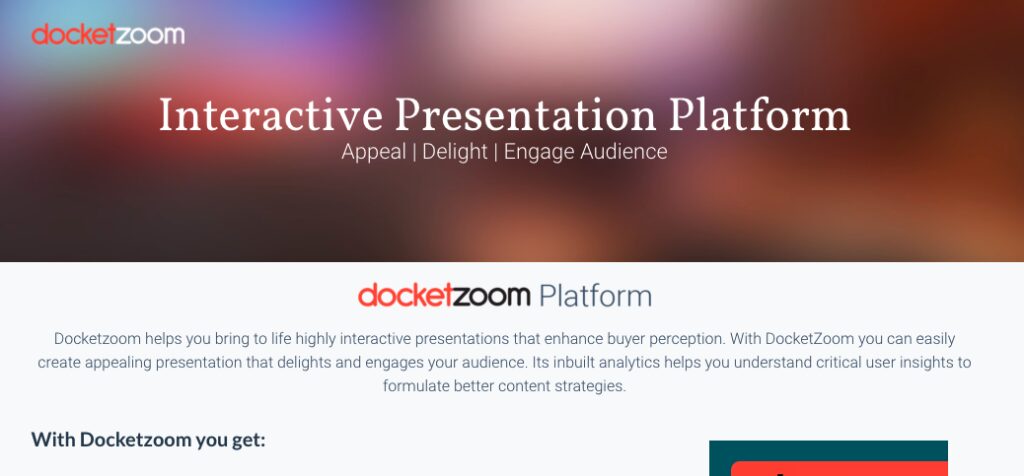 Another discontinued presentation software. Docketzoom helps you bring to life highly interactive presentations that enhance buyer perception. With DocketZoom you can easily create an appealing presentation that delights and engages your audience. Its inbuilt analytics helps you understand critical user insights to formulate better content strategies.
Totus Marketing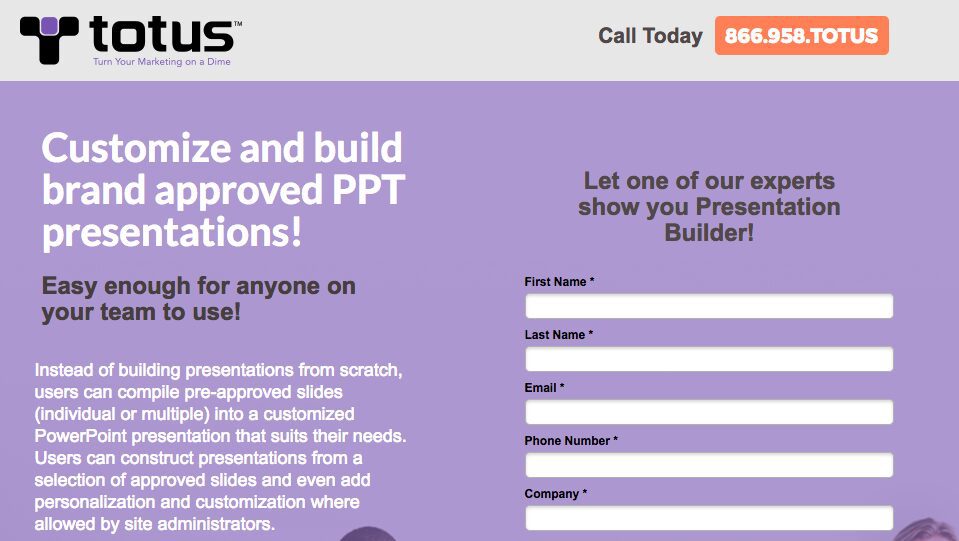 Another software business that has ceased operations and now absorbed by an experience design company. Instead of building presentations from scratch, users can compile pre-approved slides (individual or multiple) into a customized PowerPoint presentation that suits their needs. Users can construct presentations from a selection of approved slides and even add personalization and customization where allowed by site administrators.
Slide Bureau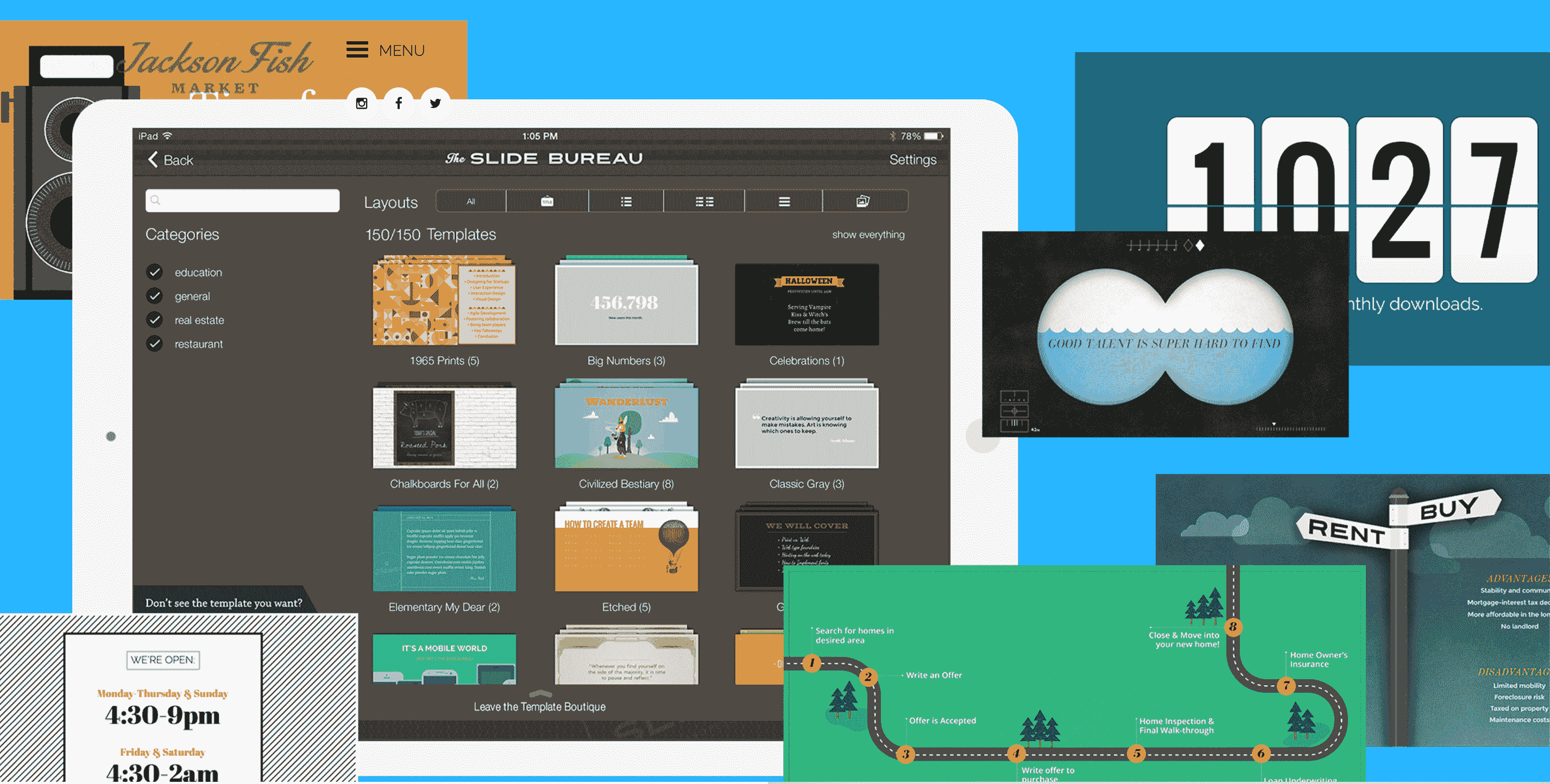 Summary – Shut down. Slide Bureau is an interesting software device. It is mainly used for iPads, but it does allow people to create presentations that are more customized than your traditional PowerPoint slide. The interface is centered on pre-made templates but they are categorized to fit the profession and overall need of the slide.
Advantages – Easy to use this presentation platform
Disadvantages – Limited to only iPads; cannot truly brand and create presentations more customized than the templates that are given
Perfect For – Educators; Individual Professionals
Other Sources – Benjamin Romano of XConomy; Taylor Soper of Geekwire
Kineticast
Summary – This is another presentation software company that went out of business. Built mainly for B2B salespeople, Kineticast is a cool presentation tool that enables salespeople to be more effective in their sales and geofencing marketing advertising. Their process includes creating the presentation (uploading files), emailing your list of contacts, and then tracking the results. The purpose of this tool is to create customized messages with slides that are meant for specific prospects.
Advantages – Enables sales professionals to improve the effectiveness
Disadvantages – Cannot create customized presentations (wasn't built for that anyway though).
Perfect For – B2B Sales Professionals; Possibly Marketers
Other Sources – Rich Bohn of SellMoreNow
Conclusion
The world of presentation & PowerPoint alternatives continues to evolve and expand. With these options available, there is a wealth of choices to suit various presentation needs and preferences. Whether you're looking for enhanced design features, collaboration capabilities, or interactive elements, these alternatives offer innovative solutions to help you deliver engaging and impactful presentations. Stay ahead of the curve by exploring and embracing these alternatives, and elevate your presentation game in the year ahead.