We know that sales enablement has been around for some time.  Sales Enablement is the systematic approach to increasing sales productivity, by supporting reps with the content, training and analytics they need to have more successful sales conversations.  This is the overarching theme that we have tools and processes in place that support the productivity and effectiveness of sales teams.  But under the umbrella of sales enablement is the arena of sales engagement.
What Is Sales Engagement?
To crystallize the basis for sales engagement, we believe the team of Aragon Research said it best.  "Sales Engagement Platforms (SEPs) as a trend in our Technology Arc for Sales and Marketing in early 2015. Today we published a new Research Note that identifies the core elements of SEP, of which Content, Communications, Analytics and CRM integration are all core elements. In a nutshell, we believe that sales teams will need SEP to engage faster and to essentially sell digitally. To us, it is like having an Office Suite tailored specifically for Sales."
We believe Presentations fit squarely in that arena of content and communications.  As we walk through the sale continuum process, there is traditionally no sale without an effective meeting and a stellar presentation.  Sales enablement for years has focused on productivity tools that touched the top of the marketing funnel.  Hubspot, Zendesk help desk software and Infusionsoft of prime examples of sales enablement tools that allowed marketing and sales professionals to better nurture leads.  But in an age when closing the sale matters just as much as opening it, we have to consider how sales engagement tools at the content and communication level is paramount.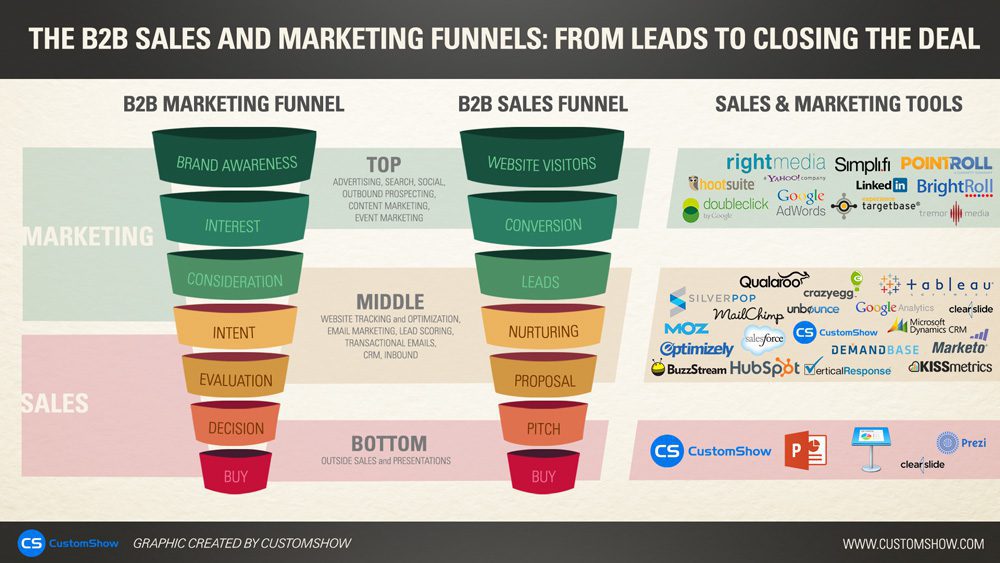 Examples of Sales Engagement Tools
CustomShow
CustomShow touches 3 of the areas within the sales engagement conversion including content, communications, and analytics.  CustomShow enables sales professionals to create eye popping and truly engaging presentations.  That's both he content and communications component. But within the platform is an analytics functionality that gives presenters real time analytics on the success of specific presentations as well as open rates and views if the presentation was shared with various audience segments.
BrainShark
Brainshark gives its hat to sales productivity.  Directly from Brainshark, "Brainshark arms your salespeople with the solutions they need to sell smarter, sell better and sell more effectively – closed deal after closed deal. With more powerful content, training, coaching, engagement and analytics, we help take your sales organization to new heights."  Brainshark has different tracks depending the focus of the product including coaching, training, and engaging.
Content: Make it easy for reps to access the most relevant content for any selling situation anytime, anywhere – event right from Salesforce
Readiness: Onboard new reps faster and keep existing team members up-to-speed with continuous learning, online training, and interactive coaching
Analytics: Monitor how your reps' knowledge and behavior affect sales outcomes and identify best practices to promote across your organization
Brainshark is a force to be reckoned with when it comes to sales engagement.
Clearslide
If volume sales is important to you, Clearslide could be a good tool for you.  There is more emphasis on the sales and tracking than the presentation creation side of the software.  After going through a series C $50 million round of funding, the company is focusing more on sales enablement more broadly and less on presentations specifically.  Clearslide has decent functionality including screensharing sales content, viewing metrics on emailed content, staying connected with your audience via mobile devices, and your ability to manage content and analytics behind it.  Clearslide does present some opportunities from a sales engagement perspective.
Sales engagement is simply another term that fits within the entire ecosystem of sales enablement.  If sales engagement is critical to your organization, this is something that will become a standard way of thinking: engaging both your sales reps as well as empowering and engaging your sales content for increased employee productivity.